The author says:
A collection of short stories and flash fiction ranging from Fantasy to Science Fiction as well as Horror. Some of the flash fiction is memoir based from years gone by. Basically, this is an all around short story lovers book, targeted just for those people who love reading a start to finish in a short time.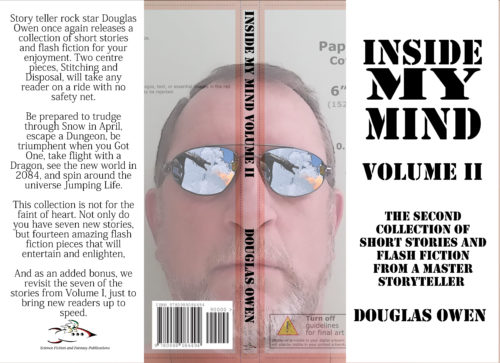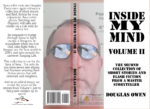 Nathan says:
Since this is Volume II, I took a look at the cover for Volume I: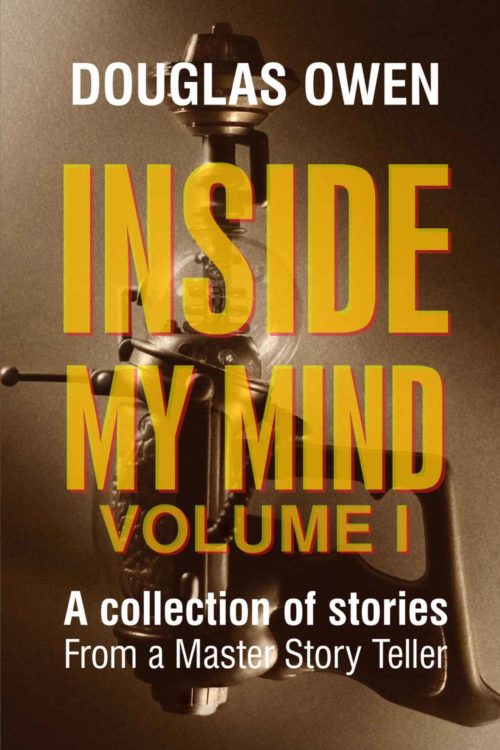 Frankly, the first cover is far superior, even though it took me a minute to figure out what that is behind the type.  The type is readable and appropriate, and the entire effect is intriguing.
By contrast, Volume II's cover is plain. The font you chose might indicate a military theme to the stories, but given that it's not backed up by the color scheme, probably not.  All that the cover really says is, "I'm so damned interesting!" — and given that most of your potential audience doesn't already know you, that's not much of a selling point.  (Nobody's going to see the dragon reflection in your glasses in thumbnail.)
My advice is to jettison this design entirely and mimic the first one: a semi-sci-fi image (a toy robot, maybe) in a muted but high-contrast color scheme, dominated by clear, bold text.
(And while you're at it… give a serious edit to your cover copy.  Misspellings and misused punctuation are not the way to convince anyone of your writing skills.)
Other opinons?