The author says:
NEW VERSION OF COVER

Michael Greyson awoke one morning feeling better than he had in years. Unfortunately, he soon learned he felt so good because he had died the day before. The upside to being dead was he made it to Heaven. The potential downside was he didn't believe in Heaven, or God. Although Heaven is the last stop, Mike has one other option. This is a thoughtful story about being dead and Mike's first ten days in heaven; helped by his guide Pete, no relation to the famous saint.

Audience is baby boomers seeking a better understanding of the meaning of life. It's literary fiction.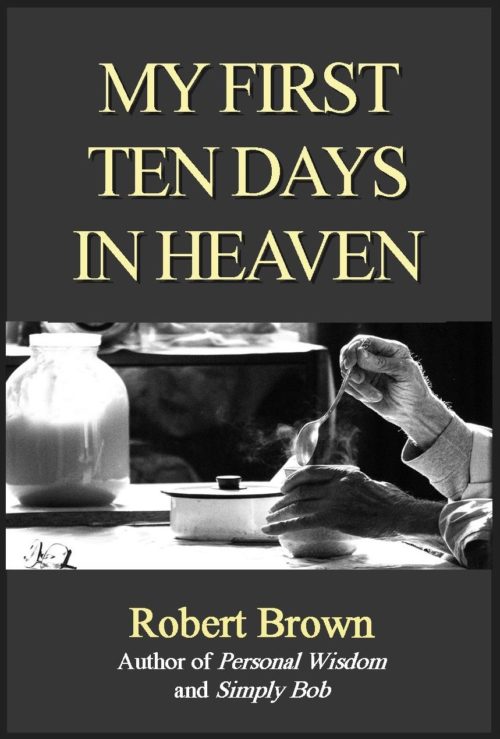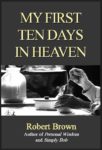 [original submission and comments here]
Nathan says:
I think all of the original criticisms from commenters still hold true here: There's nothing to catch the eye or indicate the contents. There's nothing that makes the cover a promo for the book.
You've changed fonts, but this one has its on problems: the kerning (spacing between letters) is problematic, so that "FIRST" looks scrunched together while "HEAVEN" has visible gaps (often a problem between A and V).  And the italic version for Personal Wisdom and Simply Bob isn't a true italic; it's just that same font, slanted.  I'll grant you that most readers won't be able to articulate comments about "kerning" and "true italics," but they will come away with the impression that, not only is the cover not intriguing or appealing, it's also not put together very well.
I think your best bet is advice I commonly give: Seek out half a dozen titles in the same genre that you would expect to appeal to the same readers, and examine their covers to see how readers of books like yours are used to being marketed to.
Other comments?