The author says:
Historical fiction of the tough times in Detroit in the 1970s. A poker group meets once a month at the Sax Club and always stops for a dink and view before heading up to the poker room. Members of the group including a police sargeant, are key players in confronting the mafia's strong hold on the city. They are the "Thorn Birds of Detroit."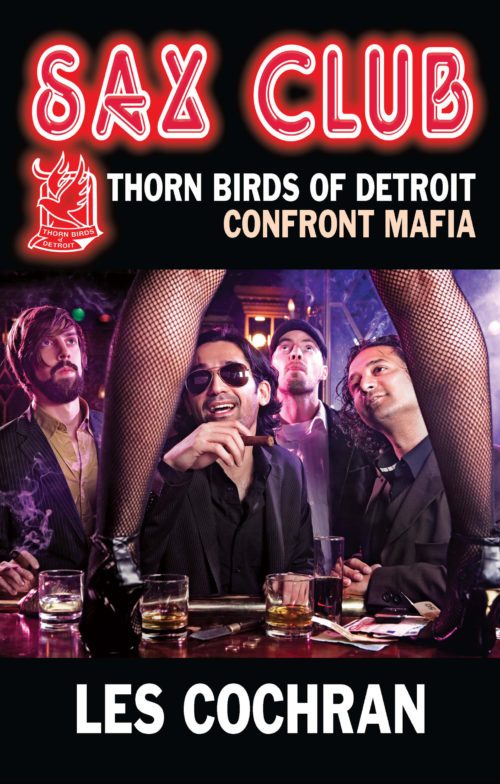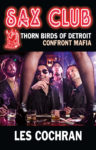 Nathan says:
So is it a crime novel? A buddy novel? I can't tell from the description whether the main story takes place inside or outside the club (the cover definitely wants me to believe "inside").
And is the title "Sax Club"?  Or is it "Sax Club: Thorn Birds of Detroit Confront Mafia"?  I would strongly advise the first, and then just dropping (or at least both downplaying and rewriting) the subtitle, as it confuses more than it elucidates.
It's obvious, and thus detracting, that the neon font has been "squished" to fit in the space… and it's then confusing that the "Thorn Birds of Detroit" logo also glows just like the neon.
I think that, with a stripper photo, your cover will get a lot of second glances. But then your potential customers will come away without knowing what story you're telling, and move on to the next book instead of reading the back cover copy.  You need to remember the most essential part of designing a cover: Remember who your target audience is, and concentrate on letting that target audience know that this is a book aimed at them.
(This is a side note, but I don't know if a '70s setting qualifies as "historical." "Period," yes, but most people don't consider living memory to be "historical.")
Other comments?