The designer says:
Usually I do horror pieces, so this is a bit outside my experience. This is for a humorous paranormal romance aimed at the YA market (think the "Teen Wolf" tv series) and also have appeal for older paranormal romance readers with nostalgia for 80's comedies. The directions were to make it look like a retro-80's movie poster, and to keep the werewolf character appealing. The tag line probably isn't the final choice.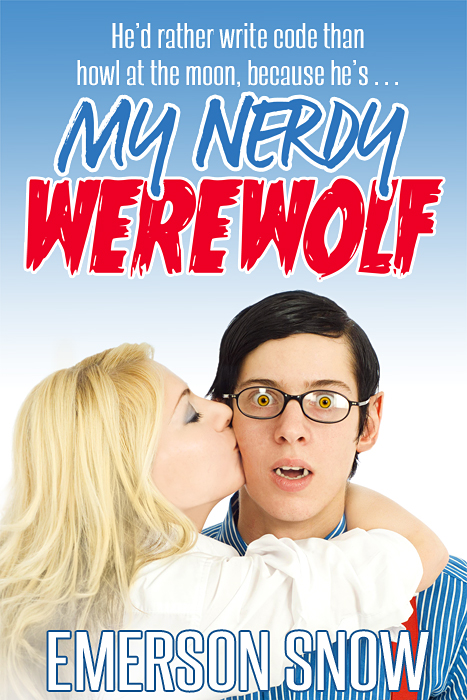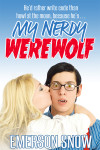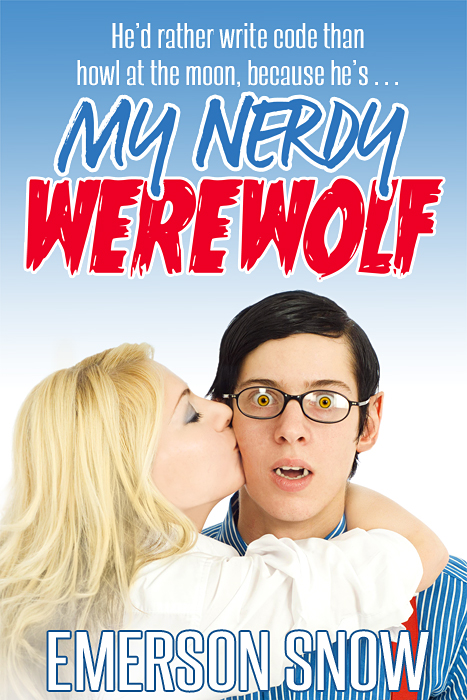 Nathan says:
Boy, this seems like fun.  I think most of my suggestions stem from the fact that, aside from the big word "WEREWOLF" in the title, most of the rest doesn't suggest there's a werewolf in this book, especially at thumbnail size.
For one thing, the background looks like a clear mid-afternoon sky. Unless he's a werewolf who transforms in daylight (and even if he is), I think the background should say "night." It doesn't have to be much — just darken the gradient a lot, especially at the top, and maybe stick a part of the full moon into the upper right.
For another, the nerd could as easily be taken for a vampire as a werewolf. (Yes, I know, yellow wolf eyes, but that's still kind of subtle.) Maybe some hair growing up his neck, and sticky-out tufts from the points of his ears?
The font treatment is fun.  I'd pull the slant off "WEREWOLF" so it stands up straight.  I also think that using upper and lowercase for "My Nerdy" would look better than "MY NERDY."  Maybe even add a slight (slight!) arch to it.  (If the gradient behind it ends up dark enough, you may need to reverse the blue and white on "My Nerdy" to make it pop.)
Those are my thoughts. Others?