The author says:
The Reigns of the Marshal Kings continues with Aesir Ascendant. It is the story of the great, shining king and the dark history which surrounds his rise, his voyages of exploration, and his ultimate fate beyond the edges of the world. A dark fantasy and cosmic horror novel, book 2 in a series that began with Vandal Valkyrie, critiqued earlier on this site. This book has a heavy nautical bent, will be darker, and suffers from the mid-trilogy 'depressing' ending. Original Cover Art by Chris Garrett, http://chris-garrett.deviantart.com/, and is used with permission.

Specific concerns: I have added a thin white drop shadow to the upper left of the text to lend the letters a glow. Does it work? Would a black shadow for darker contrast be better? I added some simple texturing to the letters for visual interest. Does it detract or is it not going far enough? The art is practically perfect for this specific book. Is it adequate for the genre? Also, how is the font? I seem to have a particular weakness with fonts.

Many thanks all. I hope what I've learned here so far has yielded a somewhat less amateurish result. I've sent along a current version of the first book's cover and an early mock-up for the third's to allow comparison across series. Art for the first is by Alex Ruiz, http://www.conceptmonster.net, and used with permission.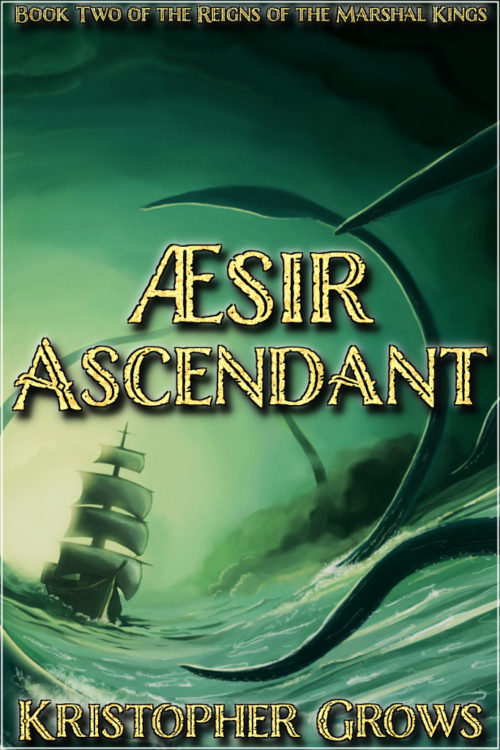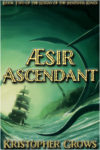 (The final version of first cover, for comparison:)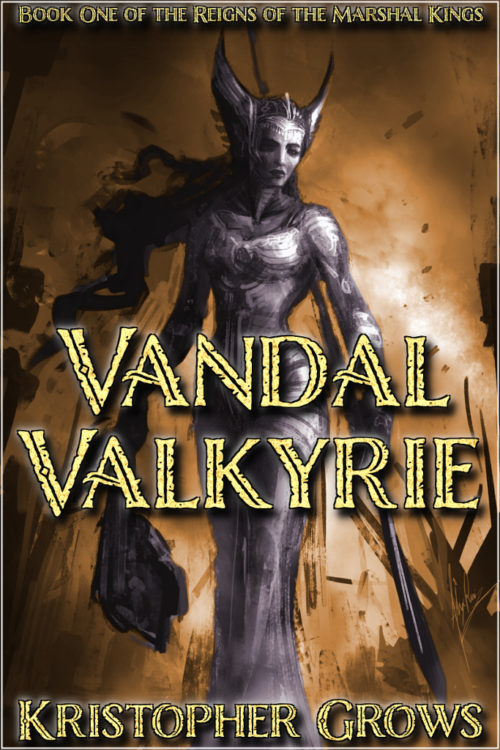 Nathan says:
Good work incorporating our comments on the first cover (visible here), and also on maintaining both the typeface and type placement for the second cover; a lot of people don't understand the importance of type placement as part of branding.
However, before we get to your questions regarding drop shadows etc., I have some concerns about the artwork on the second cover — not in itself, as it's unquestionably good artwork, but again in terms of branding and series continuity.  You gone from an image on the first cover in which a human figure is the central, dominant part of the layout, to an image with no human figures; on top of that, it's a layout with no dominant single element (certainly not in comparison to the first cover), and literally nothing in the center.  I think that's definitely a series branding mistake; having established a "series look" on the first cover, you should do all you can to tie the first book to the second, and I definitely think that having a central human figure is a big, big part of that.
I would also say that the difference in art and stroke style between the covers (scribbly "speed-painting" vs. smooth and refined) works against you.
What says the collective?