The author says:
I'm resubmitting a new cover for my Young-Adult Science Fiction novel. Although the cover design doesn't suggest science fiction, I feel that it captures the spirit of the novel more closely than my attempts at a more SciFi oriented cover. The Magician's Horses is a time travel story, but the underlying theme involves shedding material possessions and returning to nature. It is a story about coping with death and being alone. It is a story about survival, friendship, and new love. How I'm going to word that in a blurb, I have yet to determine.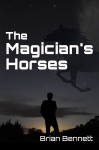 Nathan says:
Note: You can see the two previous iterations of this cover here and here.
The typeface chosen here definitely sells the "sf" vibe better than the original.  I would call this a good sketch for what you want to do. Now you need to roll up your sleeves and bring the magic.
– Look at the thumbnail. The horse silhouette gets lost, and the placement of type and other elements against the dark background seems arbitrary.  Perhaps a top-to-bottom fade of color in the horse silhouette (maybe the red from the second cover?) would give it some visual distinction.  The thumbnail comes across as monolithic gray.  Coule upping the color and saturation in the sunset (sunrise?) add some appeal?
– What detail can you add to the large version which doesn't distract from the clarity at thumbnail size, but rewards the browser for looking at it larger?  (That's one of the loose principles I'm seeing coalesce out of my exploration of good cover design: The full size version should give the viewer something beyond what can be seen in the thumbnail.) Could a slight bevel, glow, or shadow on the type make it more interesting (without reducing readability, especially in the thumbnail)? How about a subtle texture or pattern in the blacks and darks?
Other ideas?