The author says:
Slightly above average author Bob Brown, wrote about understanding you, others and the meaning of life in his book, Personal Wisdom. Life Is Not Enough is the backstory to that book; how Brown decided to seek to discover the meaning of life and explain what it is. This memoir describes the moment that stimulated this search, his intellectual and emotional guides, and what he learned over his fifty years of looking. Audience is older adults.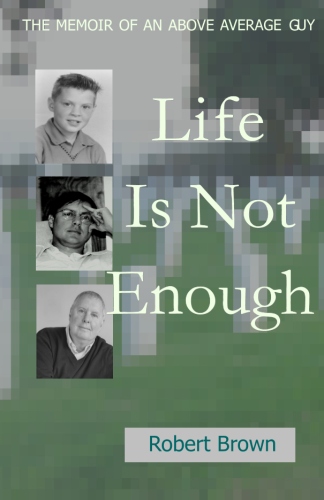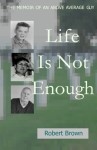 Nathan says:
The first thing I'd say, from looking at the thumbnail, is that the color scheme is too murky. It doesn't have to be flashy — a memoir shouldn't look like a K-Mart flyer — but it all kind of fades to gray.  A slightly deeper background color will also let the title be read more easily at thumbnail size.
The second thing I'd say is that the background detracts more than it adds.  I can only tell (guess?) what it is at thumbnail size; all full size, it's just a digitized something or other. But it's distinct enough that it draws attention, and then frustrating the viewer who doesn't see any point in it.  If the original image you worked from is big enough, then I'd say to try again and render it only just blurry enough to keep it in the background from the headshots and text, but not enough so that it's a mystery at full size.  (If the image you worked from isn't big enough, find another image.  Obviously, it must not be important to have this specific image, because if it were, you'd let us see what it is.)  While you're at it, look at the most visually complex area of the background image; it's right behind the title, again distracting from it.  Rearrange those two elements so they're not competing against each other.
The third thing I'd say is that the subtitle (or, as it were, supertitle) font should be replaced; it's readable, yes, but it's also so common that it looks like it was chosen without thought.  (And look at how the letters of "GUY" are mashed together.)  And while I understand that the box around the byline is to call attention to it and separate it from the background, that would really only make sense if the background were something that shouldn't be obscured; instead, I'd recommend you enlarge the byline from side to side and center it, and let its greater size make the box unnecessary.
Well, that's enough from me. Anyone else?