The author says:
The Best Weird, Historical, Humorous, Boxing Stories You'll Ever Read! He was one of the greatest heavyweight boxers to enter the legendary squared circle during the Golden Age of Boxing. Standing a mere 5' 8", Sailor Tom Sharkey was one of boxing's most feared opponents…Gentleman Jim Corbett, Bob Fitzsimmons, Kid McCoy, and Jim Jeffries all agreed he was their fiercest opponent and gave them their toughest fights. A colorful boxer both in the ring and out, he retired in 1904 after several legendary and controversial failed attempts to win the championship belt. That's the story you know – But it's not the end of Sharkey's story – not by a long shot…In the tradition of Robert E. Howard's humorous Sailor Steve Costigan boxing tales, this action-packed collection of rowdy, bawdy, burlesque, tall Texas tall feature Sailor Tom Sharkey's adventures after he hung up his professional gloves. Thrill to Sharkey's brush with Hollywood's "It" Girl, Clara Bow…Get chills as Sharkey and Kid McCoy faces down a maniacal bandit…Feel the heat as Sharkey rides the rails with Jim Jeffries and the Vaudeville Carnival into a clashes with a mad scientists and mummified menaces…Watch as Sharkey plays Santa Claus to a bunch of Tammany Hall orphans and end up with a tiger by the tail – literally – and much more! These are the Untold Tales of the Wildest Tale-Teller of Boxing's Golden Age!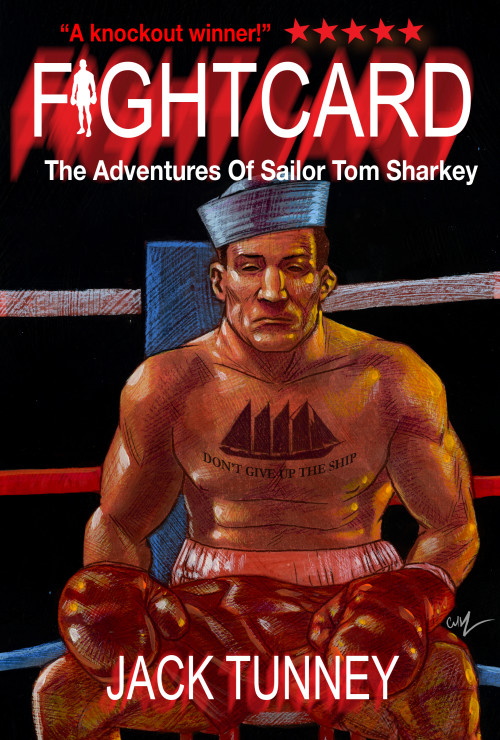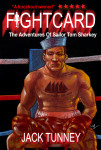 Nathan says:
It's a good, well-rendered illustration. However, it's not exactly dynamic; the static pose means that something else needs to bring the energy to this cover, and the only "something else" you have is the text, which is in a lifeless and boring font.  But I think that if you replace the font, you can add enough dynamism to complement the illustration.  Not that you need to use the wildest fonts imaginable, but you should look at period typefaces.  How was the text usually presented on period posters and placards advertising fights? How was the magazine title rendered in the magazines in which REH's boxing stories appeared?  That's where I would look for inspiration.
Also, the chest tattoo looks like exactly what it is: a separate graphic that's been modified by computer and superimposed.
Other thoughts?