The author says:
Hatred prowls the streets of London, and her name is Viper. Ancient and wicked, Viper feeds on human aeir, the magical energy that connects people to everything. She discovered the unique power of Princess Elizabeth's aeir by accident. Viper put Elizabeth on the English throne to sustain herself and find her past. When Viper uncovered her kin, she discovered an enemy with enough power to trap her for 400 years. In 2012, something releases her from her bonds. Aided by her Foundling, Mouse, and a group of humans selected by him, Viper seeks revenge on her foe and the descendants of those who imprisoned her…starting with Queen Elizabeth II. Lesley Donaldson's re-imagines Celtic mythology into an urban fantasy unlike any fairy tale you've read before.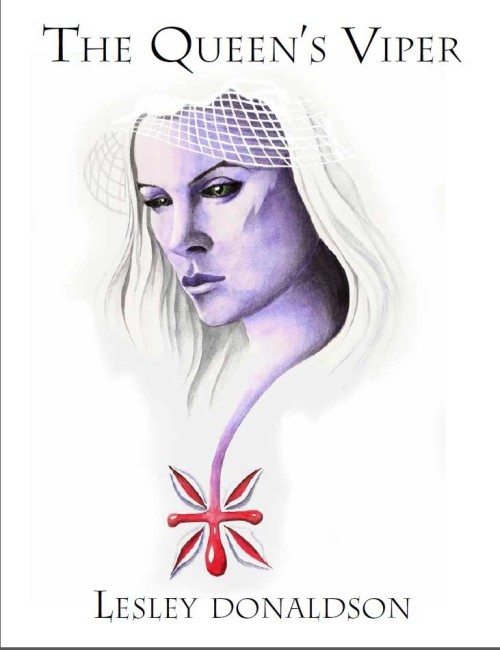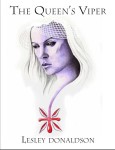 Nathan says:
I like the file name of the image you sent me: "Queen's Viper first draft cover.jpg."  First drafts are great for throwing ideas out and seeing how they stick.
My first observation is that the art is a little shaky — not terrible, but definitely less than confident. (I'm speaking here from experience — I can turn out a sketch that looks great, but when I go back to finish the details, I get stuck on the nostrils and the lips and having the two eyes match, all the same trouble areas I see here.)  Unfortunately, the white space around it means that the face has to carry the entire cover, and it's just not up to it.
White space is its own problem.  A lot of books, especially "grimdark" fantasy novels, have put it to good use recently, but it does bring its own particular problems. You'll notice that most of the books using a white background (a) have high-contrast, almost chiaroscuro artwork, and (a) use asymmetrical layout to keep it visually interesting. Unfortunately, yours does neither — the white space comes across as simply unused, rather than an intentional part of the design.
My suggestion, if you're going to stick with the same artwork (even if it's refined): Put the face to one side, making it less symmetrical, and let the type carry more of the weight of communication: make it not only bigger, but more evocative.
Other ideas?