The author says:
A guide to Chinese ladies, marriage, sex, culture, love, dating and living in China. The book reflects the opinions of the author and has been influenced by the opinions of some of his friends and trusted acquaintances. It is a genuine attempt to inform and help those people preparing for a serious relationship with a Chinese lady. Generalization has been necessary as no one example fits all. There are many underlying messages herein and the purpose of the book is to educate or inform as many people as possible.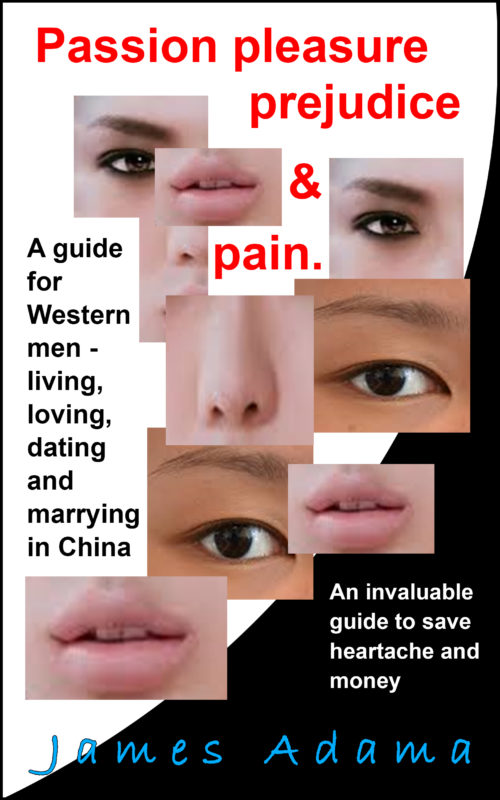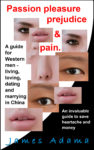 Nathan says:
Um… Okay.
First up, whenever you put the words "pleasure" and "pain" in proximity, the inference drawn is overwhelmingly one of masochism.
Second, the dissociated facial features seems an awful lot like objectification — which is a bad thing.
Third, when you're giving advice to men about saving money with foreign women… that sounds like prostitution.
Fourth, the way you've got the title fit in and around the photos makes it seem like an afterthought.
Fifth, having "Passion pleasure" right beside each other without any punctuation is just plain wrong.
Sixth, the two fonts chosen seem to have been whatever was on your computer at the time.
Seventh, half of the facial feature photos are of visibly poor resolution, and one (the nose) also has been stretched out of proportion.
I'm sorry, but there's no part of this cover that doesn't fail, and fail hard.  You would be much better off turning this over to a for-real cover designer.