The designer says:
Dakin and Laurie have spent their lives running — from their father, from the expectations of the Empire, from the destiny being forced upon their shoulder — now, finally free, they have to face themselves and decide, once and for all, where this freedom will take them. This book is fantasy, but mainly introspective. It deals with family, loss, pain, and freedom. It is targeted towards older teens/young adults. (I am not the author of this book, however I worked closely with the author on the design of this cover.)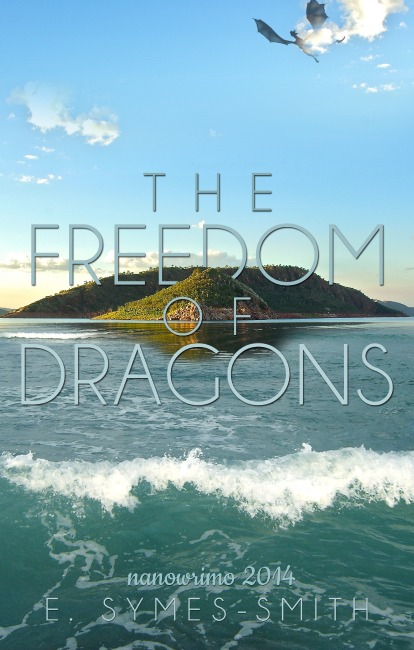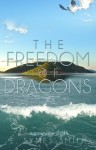 Nathan says:
I like the fact that this cover clearly says "fantasy" while not saying "fantasy just like every other damned fantasy you've ever read or heard about."  Here's what I'd tweak or explore:
1) Remove the "nanowrimo 2014."  Nobody needs to know on the cover of the book when or under what circumstances it was written, and as most nanowrimo novels are shoddy first drafts that need dedicated revision to make them publication-worthy, advertising it might actually work to the book's detriment in the eyes of potential readers.
2) The byline isn't just unreadable at thumbnail size (which is understandable), it's pretty much invisible. Even at full size, it's easy to ignore. Use that space for "nanowrimo 2014" and instead expand the byline with tighter kerning, and with a teensy bit more contrast to help it stand out against the waves.
3) Something bothers me about the placement of the title over the island, but I'm not exactly sure what. Maybe if the "of" were solidly on the island, instead of bisecting land and sea… Try either bumping the title up — or, even better, shifting the image down so the cover isn't split exactly in half by the shoreline.
4) I'd try making the dragon about twice as big, just so it shows up more clearly in the thumbnail. If you keep it over to the right, about where the wisps of cloud are below it now, it won't significantly change the basic layout.
5) This is nitpicky now, but the letter kerning on "of" is really distracting.
A big list of suggestions looks like I'm telling you to make a bunch of changes, so I'll reiterate: I really like the overall concept and design.  I think these minor tweaks will take it from "great" to "excellent."
Anyone think differently?