The author says:
OAK POINT is commercial fiction for readers who experienced the sixties, or would have liked to. It is the story of two girls coming of age in 1969, one of whom has an affair with the neighbor of Countess Mona von Bismarck. It also explores the world of French haute couture, especially Balenciaga, and Long Island society as it stood in those free-wheeling days. A "Roman à clef" based on real people and events, the cover is a map of Oak Point, which I grew up next door to in the 50s-60s. Other parts are set in Paris, NYC, & KY.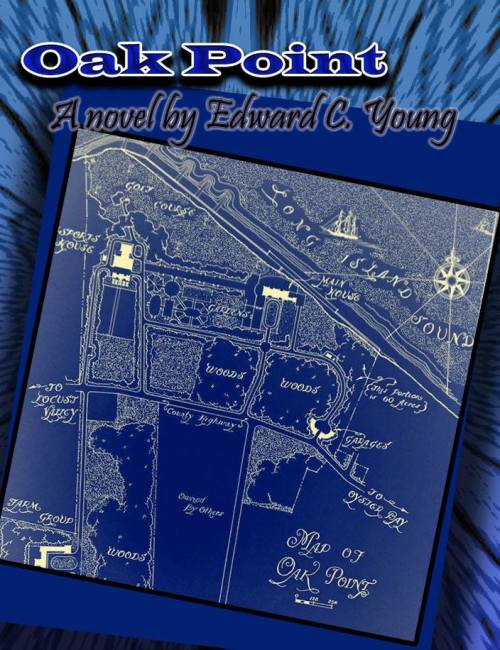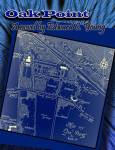 Nathan says:
I think the main problems are immediately apparent if you look at the thumbnail: The title isn't very readable, the byline is completely obscured, and the map — which is always an arresting image — barely looks like a map, thanks to the color treatment.
Here's what I would try:
Put the map in "map colors" — either its original color scheme, or a beige-and-coffee color scheme that looks like well-used paper. Overly a texture of crumpled paper (not too strong, and stronger at the edges) to map it look like an honest-to-goodness used map.
There's no design reason to have the title shifted to the left; centering and enlarging it makes it look less like an afterthought.  If the background map is in for-real map colors, the color you have for the title should stand out better, but I'd still look at other fonts — something that does better at evoking either the time or place.  Find some old paperbacks or fashion magazines from 1969 for ideas.
Separate "A Novel" from the rest of the byline.  Put "A Novel" under the title, and your name someplace separate like at the bottom.  You can then increase the size of your name, making it more readable. I'd play with the font here, too, to give it some of the flavor of your setting. (Those fonts are especially important on your cover because, without cues given by the fonts, the old map might make it look like a pirate adventure.)
I get the suspicion that, even once those changes are made, the cover will still want something else, but I'm not foresightful enough to know what that would be.
Other ideas?