The author says:
Setting: Birmingham UK, the present.

Genre: Horror/Crime

Target Audience: Fans of Stephen King and TV show Dexter

On the day that Joe Coffin, hitman for Birmingham gang The Slaughterhouse Mob, is released from jail he has nothing but murder on his mind. While inside his wife and young son were killed, and now he is out for bloody revenge. The problem is, Coffin's enemies are circling, and his wife might not be quite as dead as she should be. Joe Coffin is a vampire horror story and a gritty gangster thriller, written TV style in episodes and seasons. If you liked Breaking Bad and Dexter, and if you prefer your vampires bloody and brutal, then you will love Joe Coffin. With a fast paced, multi character storyline, smart dialogue and great characters, the Joe Coffin books are written to be binge consumed, just like those TV shows you love.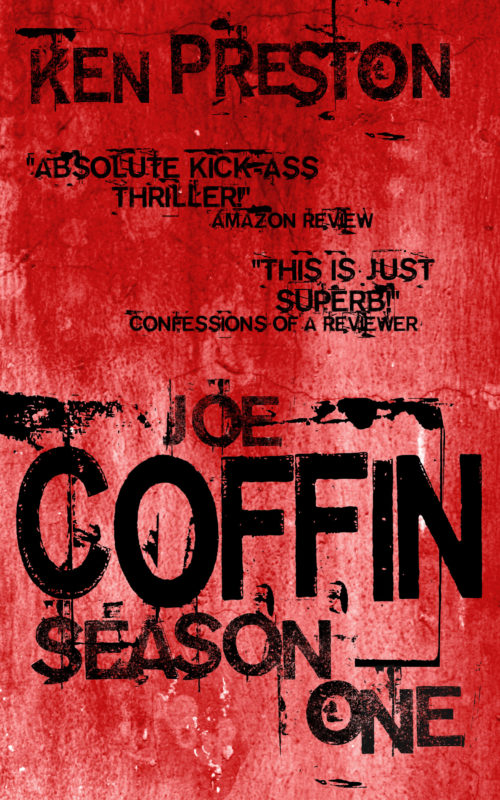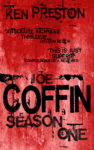 Nathan says:
Know what the first thing that leapt out at my was? You've got an unattributed Amazon review front and center on your cover. GET RID OF IT. Pullquotes are only valuable if they carry authority with the reader, and "some random reviewer on Amazon" does not have authority.  While we're at it, if you can't put an actual name to the second pullquote, at least attribute it to the website instead of just the site name; that way, readers feel that they could actually check on the review if they wanted.
Second: Aside from the fact that two nameless people liked it, I can tell very little about the book from the cover. Yes, I get that it's violent, but aside from that, nothing. Now, it's not necessary to convey setting or storyline on the cover, but there's got to be something that draws the interest of the potential reader — something to catch the eye.  Especially when your book is going to be first seen by most potential readers at thumbnail size, there needs to be something that registers on their consciousness as a thing of interest.  As it is, the only things that register instantly at thumbnail size are "Coffin" and "Season One" (even "Joe" takes a second to register, as it's smaller and against a deeper red of the blotch).
I'm not talking about cutting and pasting an extraneous object into the layout.  What could be a part of the bloody background? A shoeprint? Pocketknife? Cigarette butt? Broken crucifix?  Something that relates to your story, sure, but also — and more importantly — something that the right brain (the non-verbal side) can focus on.
So: Lost the first pullquote (and maybe even the second one), increases the size and contrast of "Joe," give a little bit of space so that "Joe Coffin" and "Season One" can be read as discrete phrases, and use the space between the byline and title to add a feature of visual interest.
Other suggestions?