The author says:
A one-way journey to Mars may be a mistake. Colonization of Mars is in trouble when the colony psychologist, one of the first eight settlers, commits suicide. Four more settlers are now on their way, bringing renewed hope – and a cat. Emma volunteered so she could explore Mars in her robotic walkabout suit. Even if she gets the chance, that may not make up for everything she left behind. Mars is a hostile planet, danger follows from Earth, and an inexplicable sense of desolation cripples the settlers' efforts. Would you go?

Science fiction set in the near-future, at the first colony on Mars. Hopefully will appeal to readers of scifi with an emphasis on the science. Some violence and a little romance, but mostly the struggle to survive, explore, and figure out what's going wrong with the settlement.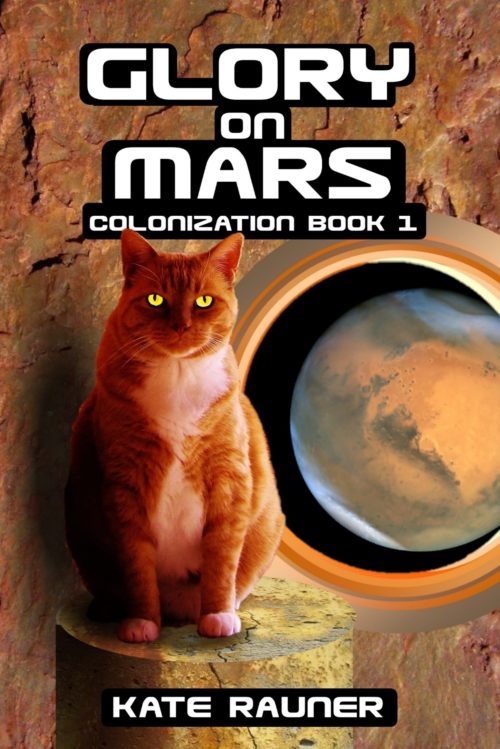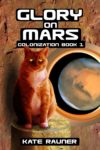 Nathan says:
There is no single major problem here, but there are a lot of little issues that, added together, may tip the scales away from you in the eyes of potential buyers.
The inconsistency of the black border around the title is confusing.
There's an overabundance of mid-range orange tones, mushing everything together.
Mars taking up the perfectly round porthole gives us a crescent of black which ends up being the most eye-catching part of the cover.  You could easily solve this by having the porthole be a different shape.
Shadows are inconsistent; the rock face is lit from the left, but the cat is lit from the right.
Problems with your cut-and-pasting: the front of the cylinder pedestal is obviously flat instead of rounded, the edges of the cylinder don't line up with the top, the borders of the porthole are completely texture-less in contrast to the stone wall, the black space in the porthole overlaps onto foreground elements.
The cover may make perfect sense once you've read the novel, but it doesn't make sense when seen fresh: If we're seeing Mars through that porthole, what red rocky place could we be in?  Why aren't we in a spaceship with riveted, steel-blue bulkheads instead?
Like I say: No single big problem. But it definitely needs a thorough tweaking before it's ready to compete for eyeballs on Amazon.
Other observations?