The author says:
This is a super early draft cover, but I'm drawing a complete blank. It's for a kids chapter book about a mysterious quilt that takes a pair of brothers back to the wild west. They have to face off with outlaws and skeptical lawmen to find a way back home. I'm drawing a blank at balancing the handmade "quilty" elements with the rough and tumble nature of the two protagonists. I ended up with a fantastic cover from last book's critique so bring it on, I can take it.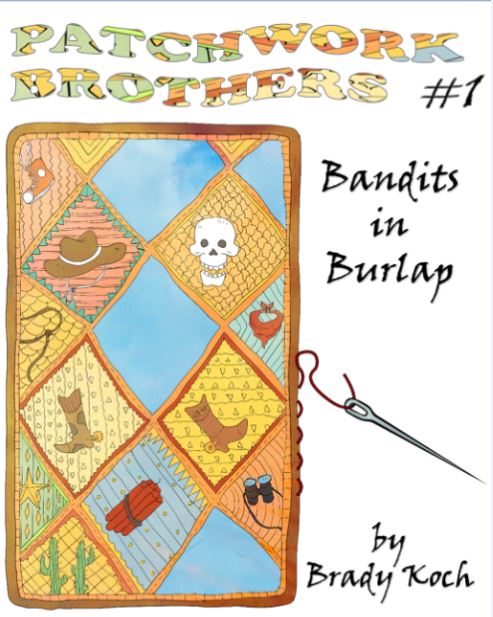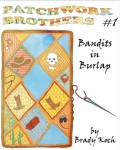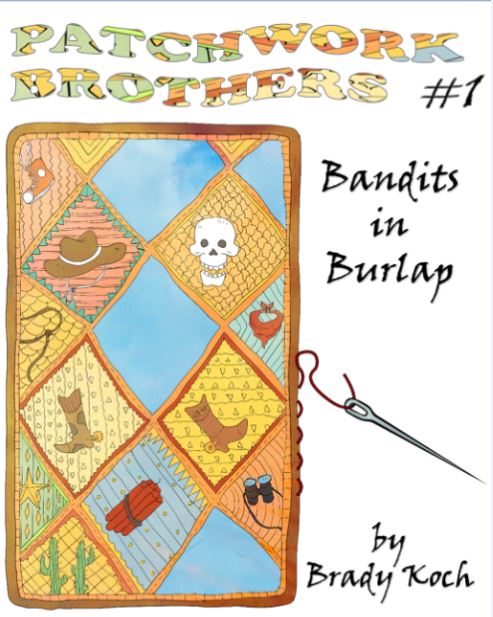 Nathan says:
Yowch. I'm glad you said you can take it, because you're gonna get it with this one. But at least you admit that you're drawing a blank.
I think you need to go to the bookstore or library and take a good look at the popular chapter books.  Here are the things I see as being common elements:
Colorful artwork with semi-cartoony exaggeration.
Characters that young readers can instantly identify as relatable protagonists.
Type that's bold and sometimes fancy, but always readable for people who haven't mastered (and may never HAVE to master) cursive script.
Now, what I'm about to suggest may be beyond your skillset, but you do what's necessary to market the book:
If you want to keep the quilt motif, let it be the WHOLE cover. Make the individual quilt squares big enough that you can show the protagonists themselves in the squares in a scene from the book, or at least a situation indicative of the story (maybe have two or three squares which are all part of the same image, even though they're separated).  Render the quilt in deep enough colors that you can use bordered light type for the title and byline and have it stand out.
Marketing to young readers is a specialized skill, in your target audience isn't going to "get" subtleties of typeface, color scheme, etc., which designers for adult books can often rely on in place of a full illustration.  You very well might need to partner with a professional illustrator to get it how you want it.  (I actually know someone with reasonable rates who might just be the person for you — let me know if you're interested.)
Other insights?