The author says:
With a fresh round of spending cuts in the Afterlife and immigration services stretched to breaking point, mistakes are inevitable. Admin errors, but from the Other Side. The Book of the Not-Dead-Enough is a collection of contemporary short shorts and flash fictions about the people who have died but been returned to their bodies. And don't drop the Z-bomb; they hate that. These stories are their continued attempts to keep calm and carry on in a world that has seen too many George Romero films. Some of them are silly, some of them are topical or satirical. Loitering somewhere between Dickens, Terry Pratchett and Douglas Adams, this collection isn't wholly flippant nor wholly serious, but tickles at the join between. [This is a second draft cover, and obviously needs to lose the Shutterstock stuff]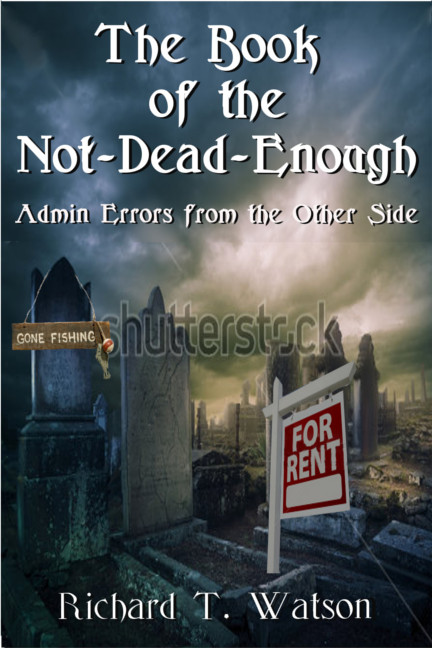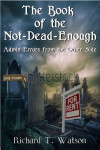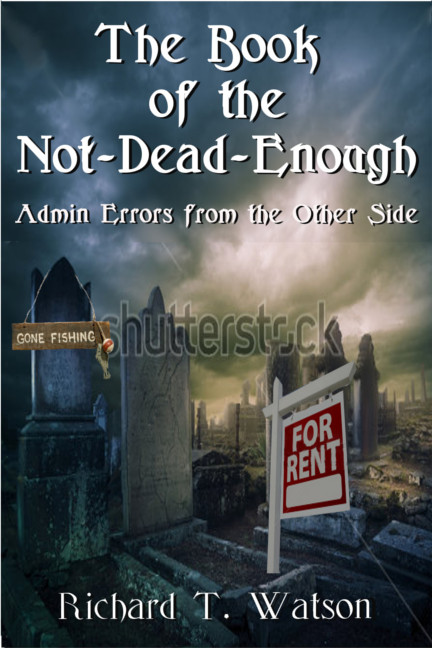 Nathan says:
A clever idea, and clever imagery.  I think a few tweaks will yield huge dividends, design-wise.
I'm okay with the typeface used, but I think you need to use it more dynamically; making "of the" smaller than the rest of the title is the first thing I thought of.  (You might even try shrinking the initial "The" to the same size and putting it on its own line; I don't guarantee the results, though.)
I also think letting the title occupy more of the cover is a good idea.  Obviously, you're hampered by "Not-Dead-Enough," which needs to be on a single line, but I still think that the title needs to take up more real estate.  Nothing in the imagery will be hampered if it's slid further down the cover.
The "for rent" sign really sticks out as being cut-and-pasted due to its angle; if you can find a replacement image, you ought to use it, and maybe have it canted as it sticks out of the grave. (Same thing with the "Gone Fishing" sign — those things never hang straight, even for the living.)
This looks like a really clever project; I'm actually pretty interested in reading this.
Other comments?