The author says:
Rawk is the last of the great heroes, an old man clinging to past glories as the world moves on. But the Age of Heroes isn't going to slip away without a fight and Rawk might just realise that the good old days aren't as good as he remembers. The Last Great Hero is a short sword and sorcery novel for YA and older readers.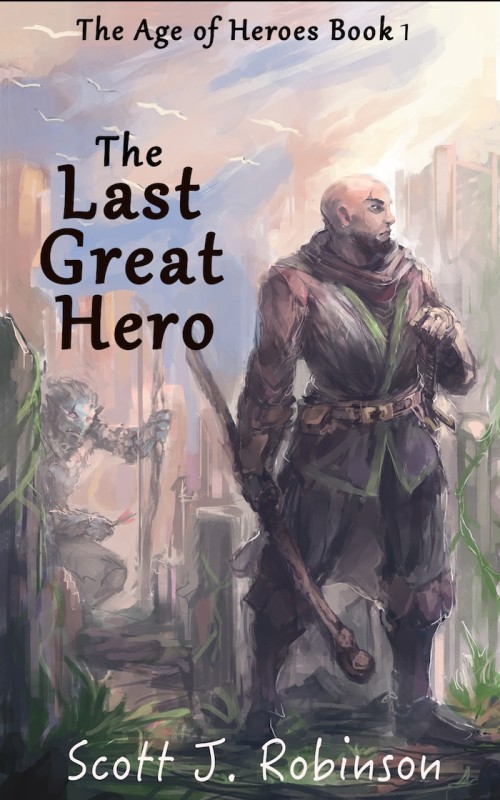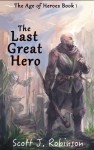 Nathan says:
Custom artwork is usually the biggest hurdle for indie-published book covers, because the budget isn't there for a professional-grade piece of art. This is a nice sketch, but on its own — especially as you've presented it — it's insufficient.  But I always prefer to work with what you've got rather than scrap it and start over, so rather than tell you "the art doesn't work, get something new," here's what I'd suggest to support it:
1) Add a border. Not just any old border, something ornate and illuminated and epic, like a gilded frame.
2) Replace the fonts. Use something just as bombastic as the border (being sure, always, that the ornateness doesn't overpower readability).
3) Switch up your layout. The space above Rawk's head is perfect for the title; use the space on the left for the subtitle.
4) You need to be really subtle on this one: Add a very, very slight texture to the illustration to give the impression of actual paint on canvas, rather than something done in Illustrator.  I can't emphasize enough just how subtle you need to be with this — if it looks like a texture or filter, it will actually be a net negative. Apply the filter or texture, then make it 50% weaker, then make it 50% weaker again. You want it just enough to see it if you're looking for it.
None of this is going to fool anyone into thinking that you had Michael Whalen or Boris Vallejo do your artwork, but it will keep the artwork from standing on its own, and should result in at least a passable cover.
Other suggestions?