The author says:
Hiking Without Dave is a true account of the author's hike of the entire 1,440-mile Buckeye Trail in Ohio. CW and his younger brother Dave had talked of hiking the Appalachian Trail, but before they could he lost Dave to suicide. CW's hike and his writing about it was part of his healing process. The book intertwines the hiking account with stories about Dave. It will appeal to hikers, but also to anyone whose life has been touched by the tragedy of suicide. The Buckeye Trail is marked by blue blazes, thus the importance of the blaze on the tree to the right of the hiker and the choice of blue lettering.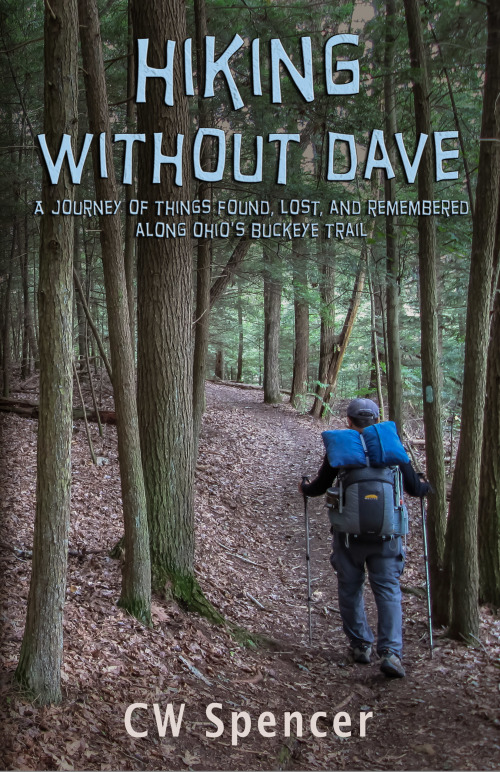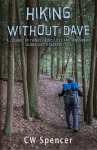 Nathan says:
My condolences on your loss.
I think you've got a lot of good elements.  Here's what I'd try to make it stronger:
I definitely think "Dave" in the title should be no smaller than any other word, and possibly biggest — it is, after all, the interesting/quirky part of your title, and yet it's easy not to notice at thumbnail size.  One thing to try would be placing each word of the title on its own line, with "Dave" at the same font size as "Hiking."  Ideally, the original photo is large enough that you could fit more of it on the cover, making the hiking figure smaller so the increased type size wouldn't overlap.
A good rule of thumb is "the smaller and denser the type, the more readable the font needs to be."  Experiment with a clearer, more "bookish" font for the subtitle — you could instead render the byline in the title font.
You might also want to tweak — very, very subtly — the color tones of the photograph, to counter that "straight out of the digital camera" vibe. Here are some ideas (of course, because I was working from your complete cover, my variations affect the type as well):
Other ideas?
10/20/14 Edit: The author says:
Thank you for all the comments on the cover for Hiking Without Dave. They are very much appreciated. I am resubmitting the cover with some changes. Some comments were about the title font being perhaps too whimsical for the subject of this book. Even though it deals with suicide, there is much humor in both the recounting of memories of the author and his brother and in his hike without his brother. It is a balance of humor and seriousness. The texture of the title font has been changed to be more bark-like.