The author says:
This is the true story of a first mate who agrees to a two-year voyage aboard a 44-foot, schooner to impress her new boy friend. She lacks basic sailing, seamanship, and swimming skills while he is competent but sometimes difficult. Their trip begins in California, continues down the west coast of Mexico and Central America, through the Panama Canal, to Colombia, Venezuela and through the Caribbean to Florida. Experienced blue water sailors will love the adventures. Travel readers will enjoy a book that uses sailing terminology sparingly.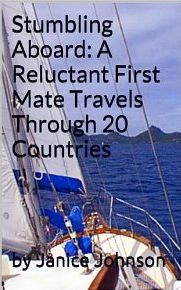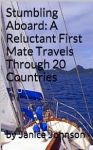 Nathan says:
You've got a good cover photo — it's obviously a sailboat, but not just a sailboat, and focuses as much on interesting landscape at the horizon as on the boat itself. So let's change the type around so that it supports the photo instead of fights against it.
First: Take a look at the nonfiction books you know. 99 times out of 100*, the title and subtitle are separated not with a colon, but with a different line, a different type size, and often a different typeface. The title is more important that the subtitle, so make it look more important.
Second: The Verdana-esque font is too common and unremarkable to add anything to the cover. If the two-word title were large enough to extend from side to side, it would be large enough that a more ornate or complex font wouldn't limit the readability (don't go overboard, though). How about something strongly classical or historic-looking? Maybe something hand written? You can then render the subtitle in a font that's clearly readable, but more interesting than Verdana.
Third: The way the subtitle slops down into the bottom half of the photo makes it look like the type was placed without knowing what image would go behind it. Don't let the type fight against the photo; place it all in the top half of the cover so it doesn't get lost against the mountains.
Fourth: "By" is unnecessary for identifying the author, and the added room gained by deleting it would allow the author's name to be larger and more easily readable. (Placing a slight halo around the name will keep it from getting lost against the photo.)
Here's a five-minute mockup of the kind of fonts and type placement you could use (I didn't have access to the original image, so just imagine this on top of the sailboat photo).  These are probably not the fonts I would decide one, but they were the closest ones to hand that approximated what I'm talking about.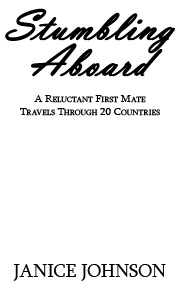 Other ideas?
*And the other one is an accounting report to the board of directors that's supposed to look boring.