The author says:
KILLING IS HER SPECIALTY. LEGEND HER REALITY. BLOOD HER DRUG OF CHOICE. Makayla Uriel is a Vampire Seraphim with a split personality. Her first impulse upon meeting her new partner is to bleed him dry. Her second is unthinkable. Humans no longer need to be bitten to become Vampires. London is burning. The Trinian Globe, an ancient artefact, has been stolen. Makayla is the one being who can prevent the inevitable apocalypse and the one least likely to. Is trust possible when you must sacrifice everything? Will the Shadow Seekers save Earth and its Gateways? Can the global distribution of V5 be stopped? Who will triumph? SERAPHYMPIRE.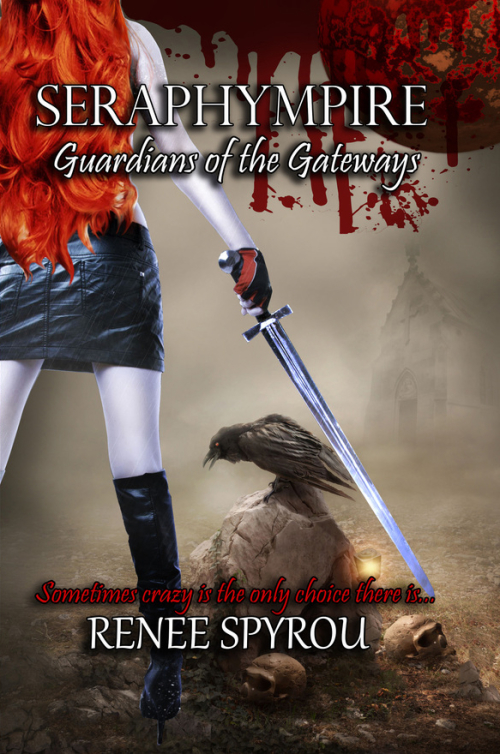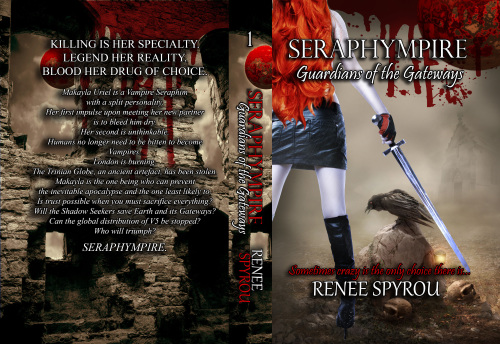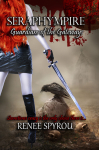 Nathan says:
Note: This is another cover that got a working-over in its original form at lousybookcovers.com; this is a revised version.
The artwork is certainly fine for the genre; I've got no complaints there.  I think you'll be able to predict everything I'm going to say from looking at the thumbnail: The text is too small.  I'm not just saying that it's unreadable at thumbnail size (readability is desirable but not absolutely necessary, and obviously big words like "seraphympire" are going to be a challenge) — there's too much wasted space.  You've already got a big chunk of space to the right of the sword; this should keep you from feeling too crowded as you play with the rest of the cover. The bloody drips above the title really don't need to be seen unimpeded, nor do the rocks under the byline.
Also, speaking of that space on the right: Move your tagline over there and put it in a simple, readable font. Its current placement make it look like the "crazy" comment only applies to the author. 🙂
Unfortunately, I think the biggest hurdle is still going to be the title, which is both (a) a neologism with which readers won't be familiar, and (b) long and complex enough not to be easily intuited.  the best I can come up with is something like this:

But that still seems too ungainly to me. Anyone else have ideas?