The author says:
YA urban fantasy, set in modern-day Phoenix, AZ. Summary: Indal, chronomancer werewolf, is dragged home from exile, because Michelle, his would-be girlfriend, has discovered her own dead body, sent back from the future. But the body is actually a deathless killing machine, and Indal's investigations reveal smugglers, alchemists, and a far-reaching plot that will shake the entire multiverse.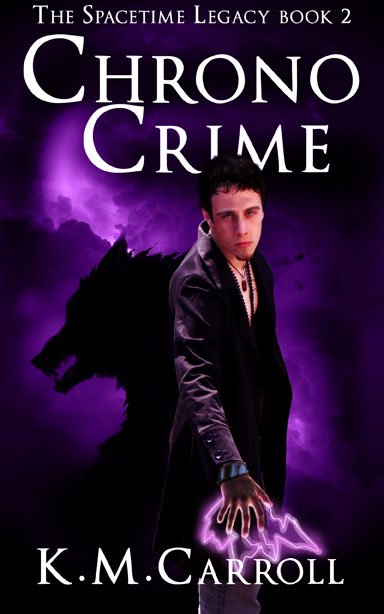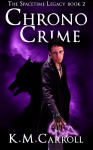 Nathan says:
It's got a good thumbnail, which is important; book covers need to be engaging at small size these days.
A few things crop up at full size:
Trajan is a great workhorse font, but it's also overused these days, and one of the consequences of reader familiarity with it is that little boo-boos about its use stand out. For instance, the spacing between the two lines of the title crows the "C" of Crime against the "H" of Chrono.  I'd also play with the kerning to make the letters look like they hang together better.
The male model's head obviously doesn't belong to that body (or maybe it's his face that doesn't belong to that head). Either way, it's disconcerting.
The wolf silhouette seems cartoony in comparison to the human.  (And you'll probably get a ration-o'-crap from the commenters here about "Wolfie," because wolves show up so darned frequently on the covers of run-of-the-mill urban fantasies and paranormal romances.)
The hand with lightning seems crowded by the byline.  One suggestion: Move the title to the top (where the series title is), shift the male model up a big to give the hand more room, and fit the series title under the book title on the left on two lines, in that space above the wolf and to the left of the model.
One other thing: It sounds like a nifty feature of the book is mixing urban fantasy with sci-fi, and that's missing from the cover.  Could there be cogs/circuits/something indicative of technology in the background clouds, maybe at the top behind the title, to give some of that science-fantasy flavor?
Other ideas, people?