The author says:
Setting: Los Angeles and other dimensions. Genre: speculative fantasy with detective and dystopian elements. Audience: adults who are comfortable crossing genres, able to enjoy Chandler *and* Tolkien, Douglas Adams *and* Dashiell Hammett. Thumbnail: When rookie private eye Nica takes on a mysterious case, she enters a world of multiple dimensions called Frames, where buildings and lawn chairs can be sentient, where a stray cat has great powers, where books can be killers, and clouds can be spies. At home, Nica tackles missing persons cases, while in the larger reality of the Frames she is swept into an escalating battle between good and evil.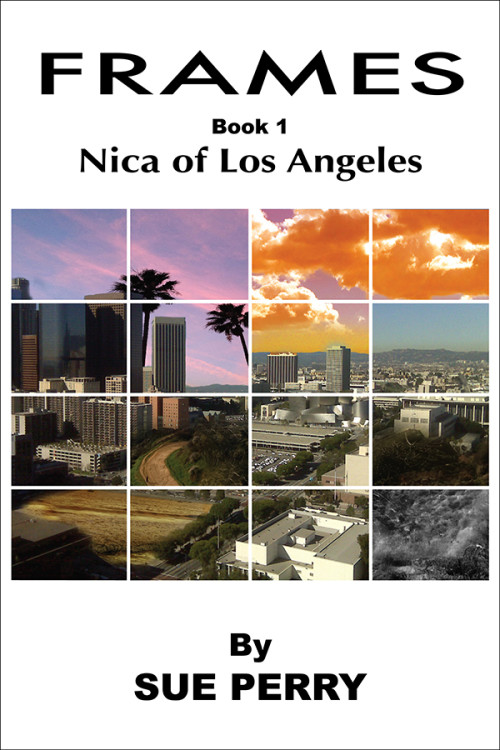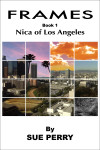 Nathan says:
There are two groups of problems here which we can loosely group under "what the cover says," and "how the cover says it."
The biggest by far are under "what the cover says." I get Los Angeles from what I see, but I get nothing that hints that this book contains either detective or fantasy elements — there's no Chandler or Tolkien in evidence.  If you're committed to the grid outline (which has its own drawbacks — see the next paragraph), couldn't you use some of the squares for something other than skyline and aerial shots? How about evocative back streets at night? Noir silhouettes with glowing eyes? Something other than postcard imagery?
Under "how the cover says it," the biggest problem is the grid itself. I'm guessing that you went with that because of the "Frames" idea, but the grid prevents the cover from having any single noteworthy image as its center of attention.  As you can see from the thumbnail version above, the postcard images in the grid are rendered even more generic.
Another problem under "how the cover says it" are the fonts. There are at least three (I'm guessing that "Book 1" and your byline are the same font), they don't work well with each other, and — again — not a one of them evokes either detective or fantasy fiction.
And a third problem is the white space on the cover. White space can be very effective when it looks like part of the intentional design (usually, though not always, in nonfiction books). Here, it just looks like you didn't know what to do with it.
If the covers posted here are salvageable, I like to suggest ways in which that can be accomplished. In this case, however, I think that starting over with a new visual concept is the way to go.
Anyone think differently?