The author says:
Totem (Book 1: Scars) is set in 1978 in a small Massachusetts city at the beginning of a blizzard. A Passage has been opened on Wachusett Mountain that connects an ancient Native American tribe with those now living in 1978. A brother and sister come through the Passage, one seeking revenge for a past massacre, the other trying to stop the impending carnage. Mystical powers are used by each, including skinwalking and manipulating nature. The genre is urban/dark fantasy and its audience would be readers of Stephen King, Dean Koontz, Robert McCammon, Terry Brooks.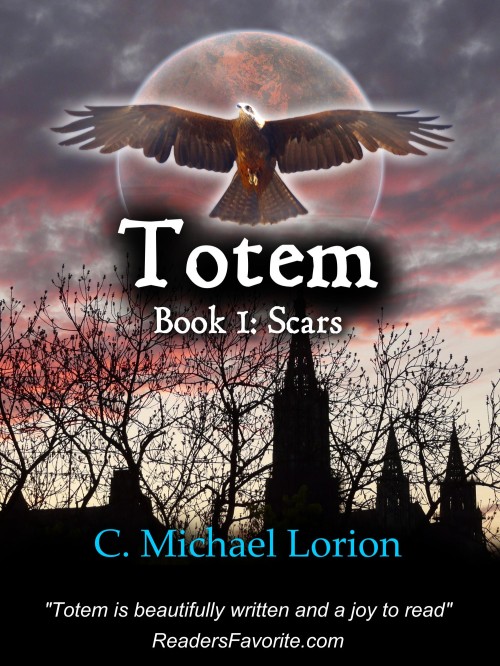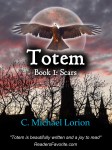 Nathan says:
Definitely a great improvement over the previous cover. It's a compelling image, and I can definitely see both the Native American and New England story elements.
Here are some ideas for fine-tuning, most of which are "try this and see how it works" suggestions:
The black cloud around the title might be a bit much. I'd experiment with thinning it down, or adding a warm tone to it that mimics that of the clouds, or pulling it lower so that it's more like a drop shadow than an aura.
Everything on the cover is centrally aligned, with the exception of the steeple in the skyline silhouette. I don't think you should move the steeple to the center, because having something be completely aligned can be visually boring, but having that one element out of step with the others makes it look inadvertent.  I'd experiment with moving one or more of the other cover elements off of the center line: the eagle, the moon, maybe even some of the type.
I'd make the ReadersFavorite.com pull-quote smaller, possibly putting the quote and attribution on a single line. (You could eliminate "Totem is" from the quote and not sacrifice anything.)
Anyone else? Other ideas?
07/02/14 Update:
Chad sent in his final cover, based on the advice he's gotten.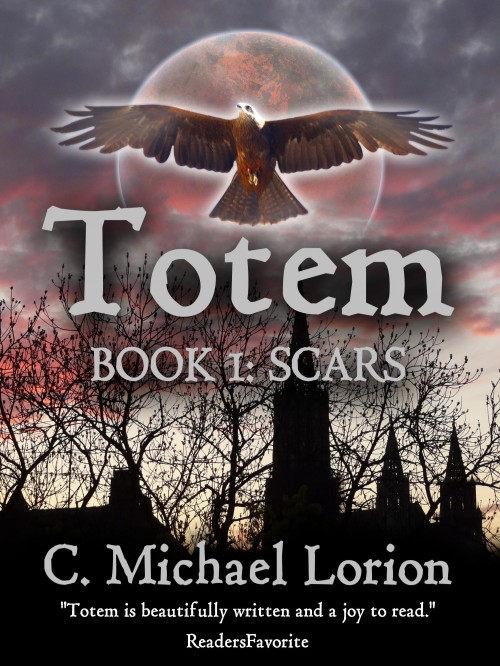 Thanks to everyone who contributed their thoughts. This is definitely a much stronger cover all around than the original.