The author says:
Totem (Book 1: Scars) is set in 1978 in a small Massachusetts city at the beginning of a blizzard. A Passage has been opened on Wachusett Mountain that connects an ancient Native American tribe with those now living in 1978. A brother and sister come through the Passage, one seeking revenge for a past massacre, the other trying to stop the impending carnage. Mystical powers are used by each, including skinwalking and manipulating nature. The genre is urban/dark fantasy and its audience would be readers of Stephen King, Dean Koontz, Robert McCammon, Terry Brooks.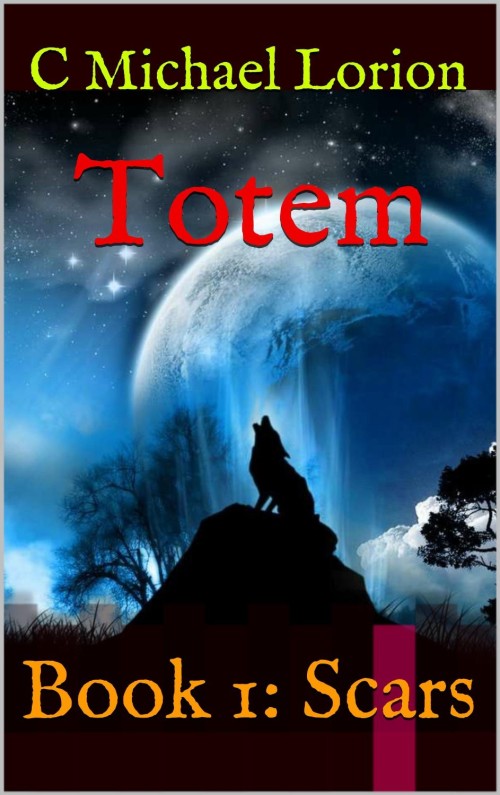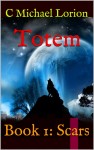 Nathan says:
First up, you're probably going to get some grief from this crowd, most of whom also comment over at LousyBookCovers.com, because of the inclusion of that wolf; so many paranormal and historical romances feature a wolf on the cover that it's become a cliche. I don't see any specific mention of wolves in your description (it probably falls under skinwalking); if it isn't essential, you might consider removing that element of the cover.  (The oversized planet-thing is also something you'd expect to see on a paranormal romance cover — don't ask me why.)
On the other hand, the wolf is the only part that even obliquely references the Native American angle, and nothing in this cover anchors it to the modern day (or 1978, which is close enough). Is there anything you could add — maybe in the fonts, or as a border around other graphics — that lends a Native American flavor to it? I assume that we're talking about a New England tribe here, so you wouldn't want Navajo blankets or Pacific Northwest totem poles, but…
From a strict design standpoint, I like the color scheme and layout. I'd suggest you change the font for "Totem" (leave it as is for the byline and volume title) just for a little more variety — possibly something sans-serif to contrast with the serif font. Also, as you can see in the thumbnail, the title text intersects with the edge of the moon; it's a bit distracting. If you keep the moon element, you might want to either move things around or make the title text stronger so it doesn't get "beat up" in the thumbnail.
In summary: Pretty good design, but I'm not sure it advertises your book accurately.
Other thoughts?