The author says:
The Magician's Horses is a Sci-fi novel built heavily on mystery and suspense. My intention is to extend beyond the usual Sci-fi audience to reach any young adult reader, while also appealing to the older, more sophisticated Sci-fi fan. I am still working on the wording for the back cover, but envision it reading as follows: "Follow Dave as he is drawn out of his solitary life by a mysterious couple who introduce him to a world of adventure far beyond his television remote. Science and thought combine to form a magic act that breaks the boundaries of time and changes Dave's world forever…"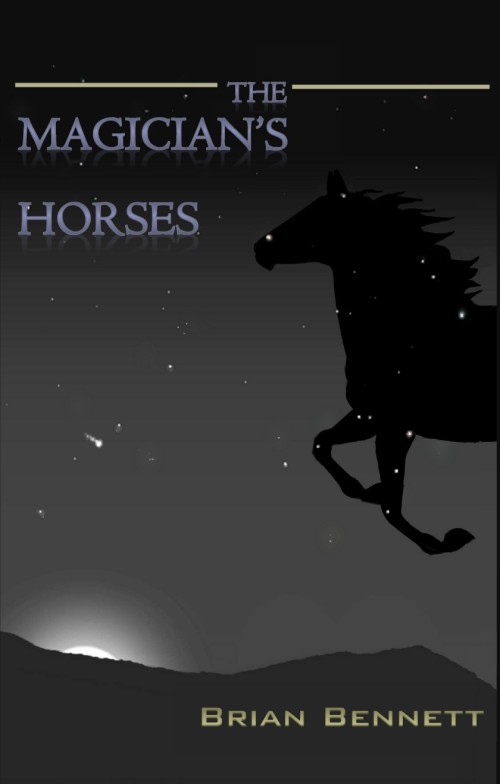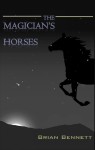 Nathan says:
First up, take a look at your cover. Now take a look at the genre you just described. Now look at your cover again. I'm on a horse! No, wait. Anyway.  I can't get "science fiction" from what I see. Fantasy, sure — I could definitely see this being the cover of a fantasy novel called The Magician's Horses. But there's nothing to cue me in that it's SF.
And really, that's the problem so big that other criticisms are moot.  I could talk about how the Web 2.0-style reflections under the title don't really work, or how the drawn-by-computer sunrise (moonrise?) would be a lot more engaging if it were a photograph, or how the entire cover fades to a dull dark gray in thumbnail size… but all of it would just be rearranging deckchairs on the Titanic if the biggest problem — that the book's description and its cover don't come within a country mile of each other — isn't addressed first.
Anyone else?