The author says:
March, 1863. The War Between the States has raged for nearly two years. Five months after his death, the body of Sarah's estranged husband, a Union soldier, finally comes home for burial in Philadelphia. Taylor's burial, though, rather than putting her unresolved grief to rest, begins a journey that will not just test her faith, but will plumb the depths of her devotion to her dead husband. When anger and sorrow push her to the edge of despair, Sarah turns to the few letters sent to her by Taylor from the front lines in a desperate need to understand the guilt she feels over his death. But, as the war continues to tear the nation asunder and rumors of a Confederate invasion threaten the North, Sarah's own sense of patriotic duty begins to awaken. And with that newfound obligation, she discovers in the letters she once dismissed as weak attempts to convince her of his duty to the nation, that Taylor's voice has the power to soften a heart grown bitter and cold from beyond the grave. Taylor's letters, though, do not tell the full story of his life as a soldier, a story Sarah will never know…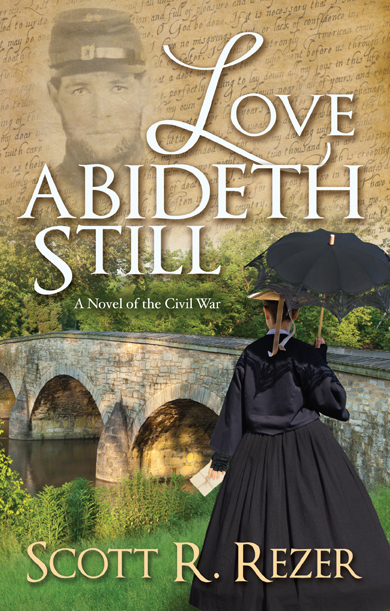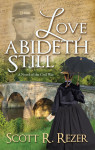 Nathan says:
Everything here is professionally done, but the final result seems unfocused. As you can see from the thumbnail, there's not a single engaging image which the reader can grab onto at that size, and when it's enlarged, there are just more details thrown at his eyes.
One idea might be to enlarge the black-clad woman so she takes up most of the right margin (say, up to the top line of the "OVE" of "LOVE") then put title to her left, with the handwriting texture on top of the bridge in the background. (I think that with the handwriting all over the cover, the letter in the woman's hand is overkill.  The same with the soldier's face; if we've got a love-related title, a woman, and handwriting all visible on the cover, the presence of a man in the relationship is assumed and doesn't need to be spelled out.)
I'd also change the font, or at least the font treatment, for the byline; I immediately thought of the Lord of the Rings posters, which is not the vibe you're going for here.
Now, what I was sent was actually the full back-and-front cover: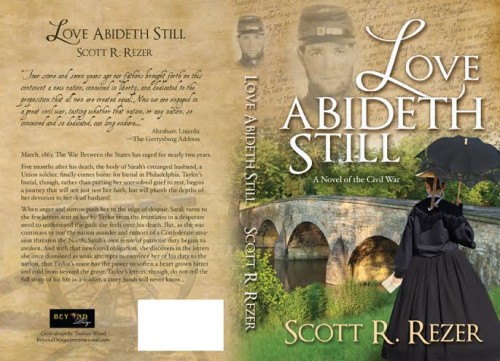 …so I'll give a few comments on the back cover, as well.  The handwriting font for the quote from the Gettysburg Address is discouraging; you'd be much better off using a period print font, such as one might see in a newspaper of the time  period.  And the book description is such a dense block of text that I doubt many people would read it when glancing at the book.  Less text, broken into smaller paragraphs, would serve the purpose better.
Any other comments?