The author says:
My book is about a guy named Oscar who developed depression and cuts and his parents find out and put him on medicine that makes him hallucinate and he hallucinates a girl who he falls in love with.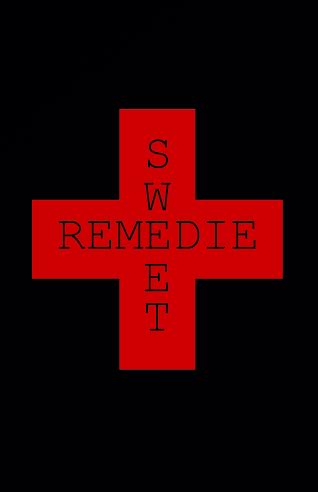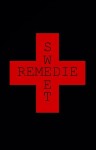 Nathan says:
The text on a nothing-but-text cover needs to be two things:
Easily readable.
Interesting.
Let's look at the first.  Intersecting type always "hiccups" in the reader's mind, because while trying to read the vertical word, the eye is more easily drawn to the horizontal word (which is itself not easily recognizable with another word interrupting it, because "remedie" isn't the spelling our brains expect).  It's worse in this case because the "e" in sweet isn't pronounced the same as the "e" in remedie.
As for the second, a plain uppercase typewriter font is about as far from "interesting" as possible. It's got no mood, no nothing.
And then comparing your cover to your book description, we might suspect some sort of medical thriller (red cross and "remedie"), but the description you give is only tangentially related to the field of medicine.  Do we get depression, or hallucination, or delusional true love from the cover? Nope.
Plain covers can be very effective; see this one for Michael Collings' horror novelThe Slab. You could do something similar, but you must make sure that both your font and your background texture are exactly evocative of the mood of your novel, since there's no other artwork to carry the weight. And a subtitle is invaluable in these cases, to add information that artwork would otherwise convey. If your story whimsical? Bittersweet? Stream-of-consciousness surreal?  Use a subtitle to add info.
Anyone else?