The author says:
THE BURNING OF CHERRY HILL is a dystopian novel set in North America 150 years in the future. Though it features teenage protagonists, it was written for the older teen/adult crowd. The siblings (Zay, 14, and Lina, 12) grew up on an island in hiding from a government they never knew existed. They are remanded to foster care when said government brutally kidnaps their fugitive parents and burns down their home. The kids have to learn to cope with a totalitarian (but prosperous and outwardly generous) government while trying to figure out a way to find and rescue their parents. The tulip is a recurring literary theme in the story.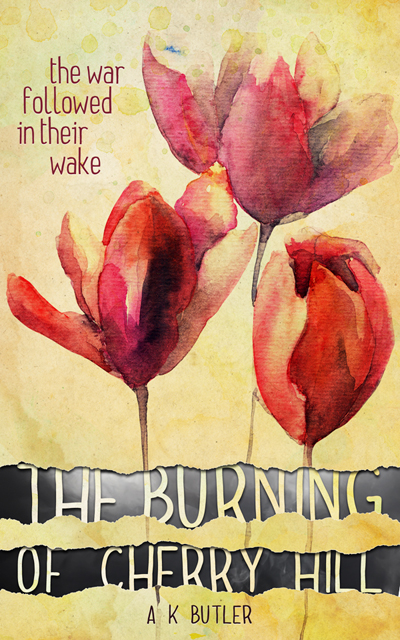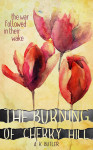 Nathan says:
This is a beautiful cover, and it is absolutely wrong for a YA dystopian.  There is nothing here to indicate that readers of The Hunger Games or Divergent or The Maze Runner or Partials would be interested in it.  It is all well and good for the tulips to be a recurring motif, but a watercolor of tulips doesn't draw the kind of crowd you're trying to draw.
If you're absolutely committed to using this artwork, then I would suggest you add a thick contrasting border of some kind which gives more of the feel of the setting and which contrasts with the tulips.  Is this a technologically advanced future?  Is there a way that could be represented in ths border?  How about a thick steel doorframe, complete with locks on one side and thick hinges on the other?  Combined with a different type treatment — one that boldly emphasizes the title rather than putting it to the background, you might have something.  But personally, I'd start over; hang the tulip original over the sofa, and then do something completely different for the cover.
(This is how I don't make friends.)
Anyone else have input?