The author says:
Title: Digital Tart Resubmit – started again from scratch. I re-wrote the description as well.

Genre: Science Fiction/Adventure

Setting: Near future

Clare Farral is in a cushy job, out of her stinking subsistence apartment, coaching the fledgling artificial intelligence of the DigiTart chat service. When she gets a psycho-caller laying the groundwork for the next cyberwar, new opportunities arise – a promotion to troubleshooter, a dodgy employee to check out, the chance at the latest in digital implants, and more trouble than she could have imagined, with only her wits to keep her one step ahead of getting killed. Lianne Medway, an enhanced police officer, investigating the murder of her old partner, is gunned down in what should have been the safety of a police barracks. On light duties, bereft of her powered armour, she pursues a lead and comes up against the ruthless Digital Tart. She knows she's on the right track – people keep trying to kill her with ever-heavier weapons. The two women converge on the same target, unaware that he is a brutal mercenary employed by the Digital Tart. Their only chance is to decipher the puzzle, avoid getting shot and outsmart a trained killer.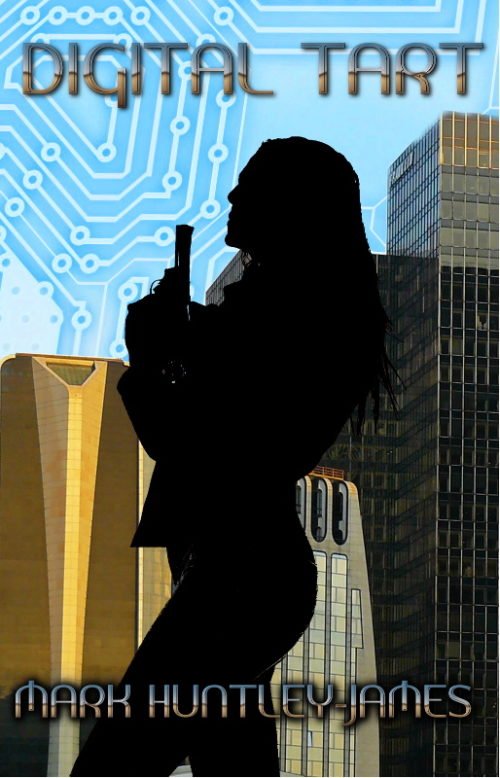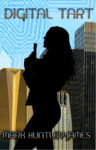 [
original submissions and comments here
]
Nathan says:
While the specifics of any critique of this cover are different from those on the previous iteration, your reach still exceeds your grasp by a significant degree.  There are things here that are so wrong that an experienced designer would have trouble explaining why they're wrong, because he would have internalized it to the degree that it becomes unconscious instinct:  the busyness of the background, the way the silhouette becomes absorbed into the skyline at thumbnail size, the too-small font sizes and the type treatment (especially on the byline) that is an impediment to reading…
I think you need to realize that cover design is a specific skill beyond the ability to operate PhotoShop, and that your book will be better off if someone with that specific skill creates your cover.  This is not an admission of failure, but an awareness of the role of expertise.  Just as you would not expect a cover designer to be able to write a compelling novel because of his track record in cover design, you should not expect to be able to design a good cover for your novel just because you wrote the novel.
Sorry, but it's the truth.