The author says:
Genre: Science Fiction/Thriller

Setting: Near future

Clare Farral answers a call, expecting to talk dirty to another customer, whilst coaching the fledgling artificial intelligence of the DigiTart chat service. Instead, she gets a psychopath laying the groundwork for the next cyberwar, using bullets as well as bytes. Now she has an online stalker. One of the first casualties is Clare's friend Kyla, a medically-retired 'cybercop', an enhanced officer injured in the line of duty. Kyla's former partner Officer Lianne Medway investigates the murder, herself getting badly injured by someone trying to disrupt the investigation. Clare is sent to challenge her stalker in person; Medway, on light duties, hunts Kyla's killers. The two converge on the same target, a ruthless mercenary drawing them in to be pawns for his own mission.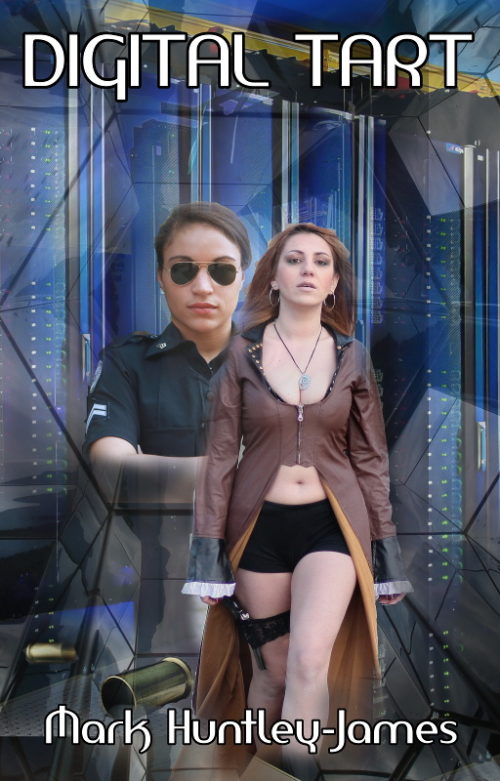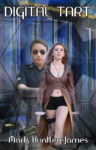 Nathan says:
Your reach exceeds your grasp on a lot of fronts here.
The overlapping figures: You've seen it work on other book covers and (especially) movie posters, but you're missing the rest of the equation.  It works when the figures depicted form a hierarchy, not just in who's in front of whom, but who's higher than whom, so that the size differences convey information about the characters.  Here, it just looks like an awkward overlap.
Color scheme: The two figure photographs are presented as photographed, with no modification.  Especially if you have figures who obviously aren't in the same photo or shown at the same scale, you need to have a unifying color scheme so that they are visually related.  Again, look on movie posters to see how this is done right.  Remember that, in thumbnail size (which is the size at which most potential readers will first encounter it), the color scheme gets noticed before the text, or even before the imagery.  It's important.
The font: Not terribly suspenseful, and it doesn't have a lot of visual weight.  If you look at the thumbnail, you can see that the title almost seems hesitant, taking up as little space as it can, despite having tons of space beneath it.
The less said about the bullet casings thrown in to add to the "danger" quotient, the better.
Back to the drawing board, I'm afraid.
Any other opinions?