The author says:
This is the cover I made for my book collection. (Release date end October) Three novels about Ralph and Sarah; telling the story of their survival during the zombie apocalypse. They go from being quarantined and escaping their imminent death, to struggling with other survivors to survive and ending in them trying to bring down a corporation up to no good. It's a young adult zombie series, set in the near future during a zombie apocalypse. The target audience are zombie fans who love horror, carnage, and fast-paced action.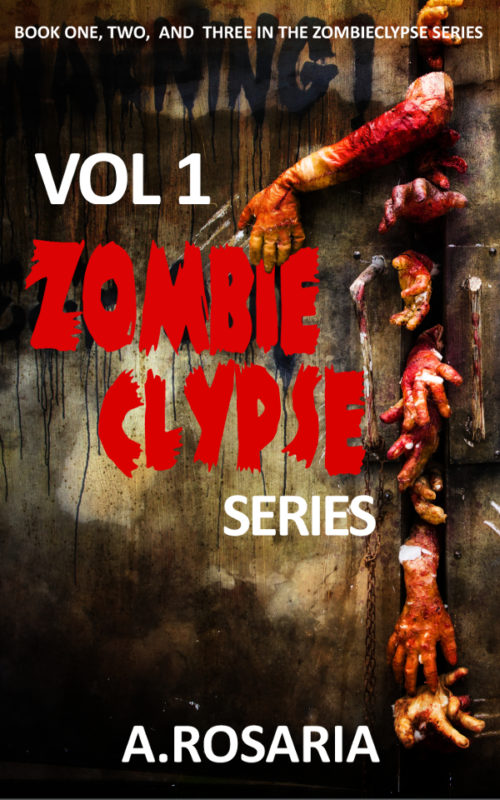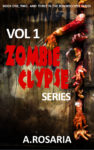 Nathan says:
The problem with "horror" fonts like this is that they now connote a goofy, winking self-awareness.  Unless your novels have a self-deprecating B-movie tone (and it doesn't sound like it from your description), you're not giving the right impression with your cover.  Plus, it's hard to read in two ways: one, the "clypse" doesn't contrast well with the background behind it, and two, you've split "Zombieclypse," which is a marginally readable neologism at best, leaving "Clypse" to be read as a separate word. Anything you do that makes it harder to instantly comprehend your cover is something that decreases reader interest.
Also: The title, as I gave it above, is my best guess, but it could more easily be read as Vol 1 Zombie Clypse Series," which is just ungainly.
My advice:
Give the title as "Zombieclypse Volume 1," on two lines:

ZOMBIECLYPSE
Volume 1

Use a modern, distressed font for "Zombieclypse" instead of something from Nightmare Theater.
For your second font, I would either go with the non-distressed version of the "Zombieclypse" font, or something entirely different, like a handwritten font.  (Remember also this rule of thumb: The smaller the text is, the more readable the font needs to be.)
My instinct is to left-justify all of the text, to balance out the zombie hands on the right (nice image, by the way).  If "Zombieclypse" won't fit on one line without overlapping the hands, then I'd consider setting it on a cock-eyed angle.
Other comments?