The author says:
In 1974 a disenfranchised young man from a broken home set out to do the impossible. John Egenes saddled his young horse Gizmo and started down the trail on a seven month journey that took them across 11 states, from ocean to ocean. It is a tale that's as big as the America they crossed, an America that no longer exists. It was a journey that could only have been experienced step by step, mile by mile, and viewed between a horse's ears.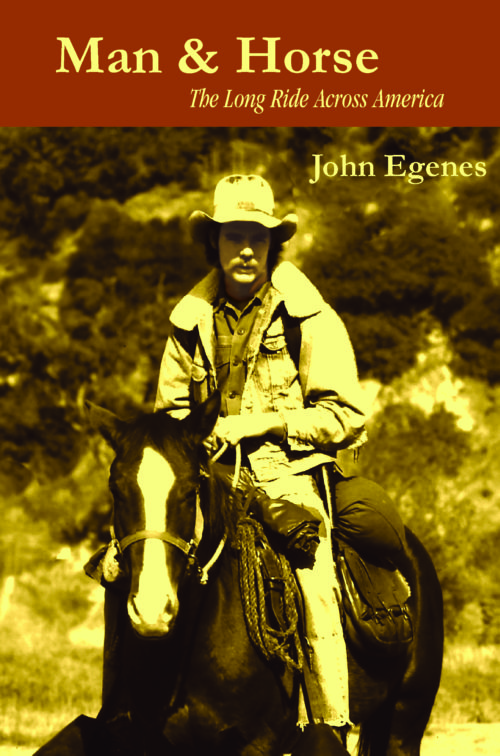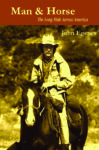 Nathan says:
The faux sepia tone, and the lack of anything visual which immediately places this in the 1970s, leads to the instant error that it's a tale of a much, much older time.  (Yes, a few seconds' examination of the rider's garb shows that it's very likely a photo from the '60s or '70s, but you will have lost the attention of those potential readers turned away by the initial impression.)
In addition, both title and byline get lost — the title because of size and color, and the byline because of size, color and the busy background behind it.  There would be no downside to putting the title across the horse and lower — ain't nobody going to complain about the horse's face being obscured.
My advice would be to take the sepia filter off the photo, and then add an element or two to show that the photograph itself is a document of the journey: a white border with black mounting corners, perhaps, or a couple of fold lines across the print.  Then seek out a period-specific (or at least appropriate) typeface — not something as gaudy as the "Mary Tyler Moore" font, but still something with a connection to the time period — and make sure that it's readable, or at least visible, at thumbnail size.
Other comments?