The author says:
Double Dealing in Dubuque is a contemporary novel influenced by the noir mysteries of the past. Frank Dodge gets an assignment to write about the growing appetite for boutique food in the Midwest. When a fire breaks out at the food convention he's attending in Dubuque, Iowa, two people die. Dodge suspects the real cause is being covered up by city officials. As he investigates, he gets drawn into a bitter dispute between two of the area's craft food royalty, all while trying to fight off a rival writer intent on undermining his work. Double-Dealing in Dubuque delves into what can go wrong when feuds get out of hand. The book will appeal to fans of writers like Nevada Barr, William Kent Krueger, and Dana Stabenow. Peggy Nehmen created the cover art.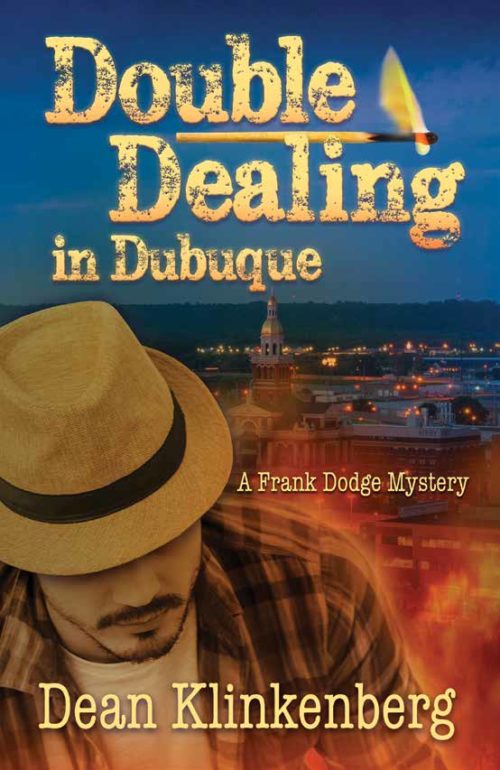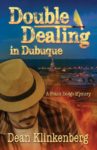 Nathan says:
I love it when submissions here include specific writers whose audience is the same audience.  That allows me to go to Amazon and see a gallery of their current covers.
Nevada Barr:

William Kent Krueger:

Dana Stabenow:

The first thing that jumps out at me? Crisp, clear, THIN contemporary fonts.  Stabenow's are the only ones that even use any serif fonts, and even they are both clear and thin. My takeaway from this is that your faux-typewriter font isn't going to signal to your target readers that this book is for them, and the distress on the title is another false step.
The second thing I see is a lot of high-contrast cover images, with the text both dominant and stark in its contrast with the image, whereas yours concentrates on midtones and avoids areas of high contrast.
The third thing I see is that only seven of the fifteen covers above feature a human figure at all, and the only ones that could be said to feature a "portrait" are Stabenow's "Kate Shugak" series book — and a little bit of checking shows me that those are reissue covers, not the covers that originally introduced the character.  So I'm going to say from those examples that having fully a third of your cover space taken up with the bust portrait of the dude with the hat is the wrong way to go.
Your designer obviously has the technical skills to put a cover together; now you need to put your heads together to come up with a cover concept which targets your intended audience.
Other comments?