The author says:
The Amazon Book Description:

"The job of this world is to turn and you must learn to just watch it turn." Before Gautam Singh could hear and understand those words, he had to live a whole life. A life whose focus shifts from friendship and love to success and ambition. A life which culminates in a spiritual quest, undertaken in the most unlikely place with the most unlikely teacher. "Watch It Turn" is an Indian novel, set in the backdrop of the rise of the Indian IT industry, with characters that captivate and events that bring you face to face with your own self.

Length – 284 pages (in 12pt print)
Genre – Literary fiction

My Questions
– Is the photo too complex?
– Are the colours striking enough?
– Are the fonts and sizes of the text ok?
– Any other criticism/suggestion which the good folk here can give will be appreciated.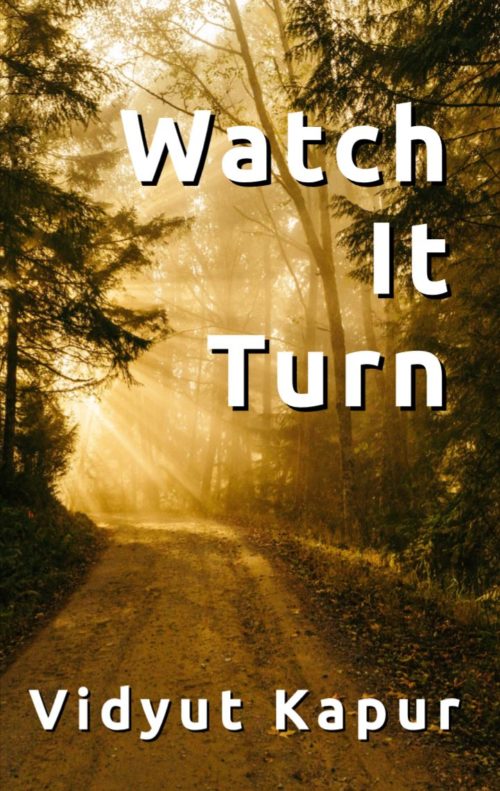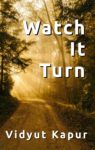 Nathan says:
I've snarkily commented elsewhere that the covers of literary novels try mightily to make the book look like it's "about nothing."  I fear that might have been taken as advice here; your cover — while it certainly has no major technical flaws — doesn't actually tell us anything about the book.  Or, as I usually put it, it doesn't tell the target audience for this book that it's meant for them.
The problem is that a dirt road in a forest, while picturesque, is awfully generic.  There's nothing here to give a hint about setting or genre — if it weren't for your byline, there wouldn't even be a hint of an Indian angle.
If it's set in India, how about a sunset shot of the urban Mumbai skyline?  If it's about a spiritual quest against the backdrop of the IT industry, how about a spiritually resonant image of some sort, contrasted with a typeface with the kind of high-tech edge that companies like to give their logos?
There's nothing wrong with this cover, but there's nothing really right with it.  Imagine the thumbnail with several other thumbnail-sized covers on either side of it — since that's how most potential readers will first encounter it — and say to yourself, "What can I do to make this more attractive and click-worthy?"
Other comments?