The author says:
Paul is a dealer in demonic contracts, a middle-man selling safe deals, deluded that he is a master of the dark arts. A seriously hot uber-witch tries to kill him as the start of a hostile management restructuring from the demons who need to replenish their human livestock. Paul is caught in the battle between the demons, an obscure Church sect (led by the uber-witch's crazed and violent sister), and the other demon traders in town who think he's playing for the wrong side. It's not a good time, but Paul also wants a date with the psycho witch. Paul is just trying to survive – he's already died once and come back, but you only get one do-over like that. As his friends are drawn into the fight there is no way out, and once the demons complete their planned acquisition, his sacrifice is needed to get everyone home again.

Genre: Urban Fantasy with a touch of dark humour

Target: Adult – a lighter tone for fans of Mike Carey's Felix Castor series, or Richard Cadrey's Sandman Slim, with a hint of Pratchett and Gaiman's "Good Omens"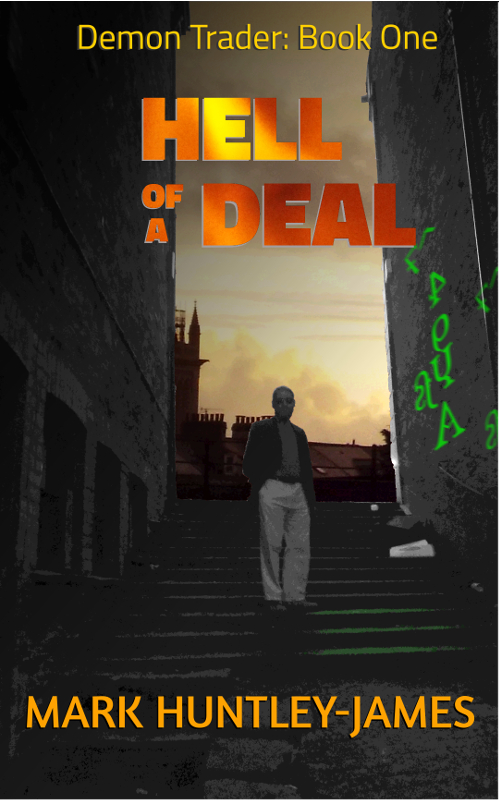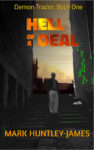 Nathan says:
I can see what you were going for here, but too many little problems add up for a big problem.
The title is too small (there's nothing in the background that shouldn't be covered up), and the gradient through it makes it harder to read in thumbnail.  It also clashes with the background.
The filter effect for the main photo muddies the contrast instead of heightening it. It looks like you rebooted your computer in safe mode.
The glowing Greek letters on the wall end up being the only part of the image aside from the title and byline that draw the eye — but the photo is arranged so that there's a human figure dead center.  The result is that nothing is dominant in the image; it becomes focus-less.
The human figure… It's not clear, but it's not a mysterious silhouette; it's just indistinct.  The pose doesn't convey dynamism, or strength, or humor; it's boring.
The edges between the midground (with the strongly filtered effect) and the background (rendered in an entirely different visual style) are distinct and artificial.
The fonts you chose are all different sans serif fonts — not close enough to be unified in their effect, not far enough to contrast effectively.  They seem like fonts that just happened, instead of fonts that were deliberately chosen.
Take a look at your cover in thumbnail, and compare it to the thumbnails for covers from Mike Carey and Jim Butcher: stark and bold typography, strong contrasts, narrow color schemes.  This is how readers of books like yours understand that the book is for them. Go and do likewise.
Other comments?