The author says:
I have made this new version of Loveweaver to replace the previous cover I sent a couple of months ago. This cover is a still a wip.

About the book: The year 895. Slayde's job as an top military leader of Kent is to rid England of the last of the Viking raiders. But Llyrica is no ordinary Viking. She's a beauty with a mysterious past … and a talent for weaving song spells. Even as Slayde saves her from drowning, he knows Llyrica will be a dangerous distraction. Llyrica is now a stranger in a strange land on a mission to fulfill a deathbed promise. But she must also find her missing brother. This man, Slayde, known as The StoneHeart in his country, seems determined to block her at every turn. And yet she can't help but be drawn to the affectionate, loving side of him that awakens when he sleeps – The sleepwalker. Unknown to both Llyrica and Slayde, each will use the other to accomplish their quests. Both will also fall under the song spell that she wove into the braid of his tunic. Will her Lovespell ensure a happily ever after for them? Or condemn them to a love that was never meant to be?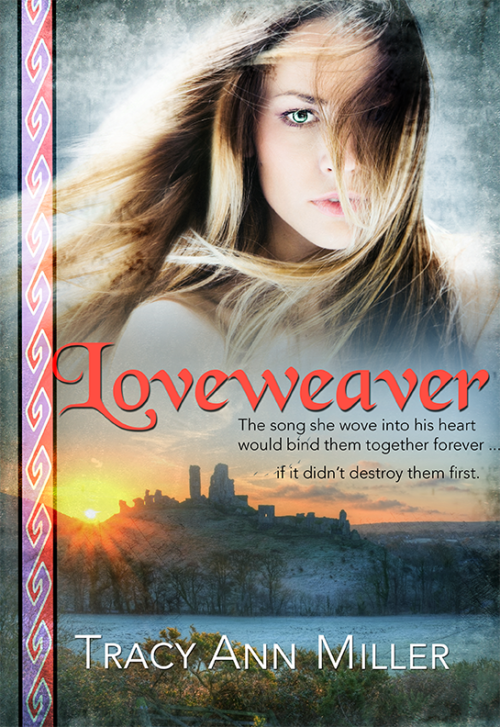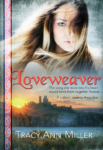 [original submission and comments here]
Nathan says:
A much more respectable collection of elements this time out; good work! All my comments are tweaks to this design.
I would make the model's head larger, so that the title overlaps onto the shoulder and hair beneath the chin (it's not like there's necessary detail there). In addition to enlarging the focus of the image, it would also put a little bit of a darker background behind the title, which would help it stand out more at thumbnail.
The middle line of the cover blurb (specifically, the ellipsis) goes way too far to the right. Bring it back so that no character is further to the right than the last letter of "heart" in the line above.
Move the byline down so that it's got solid trees behind it; that will improve readability immensely at thumbnail size.
Any other suggestions?