The designer says:
This is a textbook designed for students and business professionals who are entering into their first project leadership role. Chapters cover the basics of leadership and team dynamics, project fundamentals/management, stakeholder communication, and some common pitfalls to avoid. This cover should target students and early-career business professionals equally. Thanks in advance for your feedback!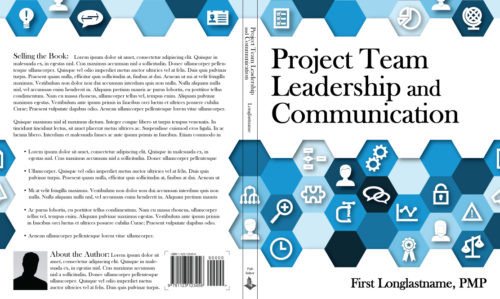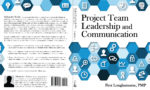 Nathan says:
The two great things about textbooks:
They're not impulse buys.  An instructor, department head, etc. will carefully evaluate what text to use for his classes.  That means that the cover doesn't have to carry as much weight in the persuasion process.
Selling one individual on the book means that dozens of copies just got sold!
Because of those factors, as long as a textbook cover provides a clear title and space on the back to describe its merits, the rest is gravy.
That said, what I would be tempted to do here — and this may be just me — is add some red or orange to a few of the icons on the front, just for variety and a touch of warmth.
Other comments?