The author says:
In 2059, every person's DNA is recorded in the Genome Database. Even though Annette's perfect baby girl was the product of a one night stand, she knows the database will give her the name of the sexy stranger who fathered her child. Instead, her baby's DNA matches that of a man she's never met who died several years ago. Irene works at the Social Department and is assigned Annette's case. When more and more instances of births that don't make sense and babies who shouldn't exist cross her desk, she realizes there's something deeper going on. Her investigation sucks her into a sinister organization with a single goal in mind. Misguided matchmaking. Deranged medical experiments. Outright terrorism. All in the name of finding one elusive thing: Quality DNA.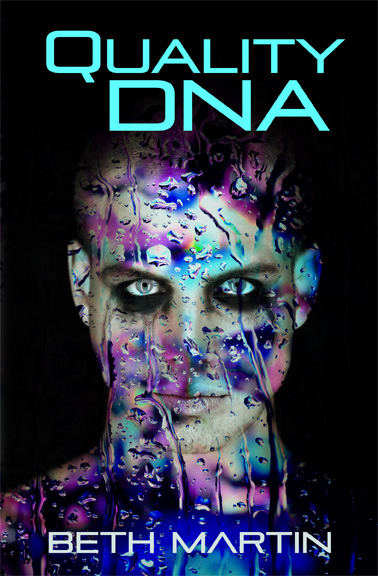 Nathan says:
This is the kind of cover that relies almost entirely on its ability to interest the eyeballs and make the potential reader stop in their browsing.  With that in mind, I think that the random color patterns detract and distract from the impact of the cover.
Sorry, I'm a little under the weather today, so I'll let the rest of our cadre of helpful commenters helpfully comment.