The author says:
Mended Wings is a Young Adult novel that tells the inspirational story of a young woman's recovery from a traumatic brain injury. Her name is Flicker, and she is a survivor. Her journey celebrates the dignity involved in making choices, and taking risks to achieve one's goals. Readers cheer as they watch Flicker take flight.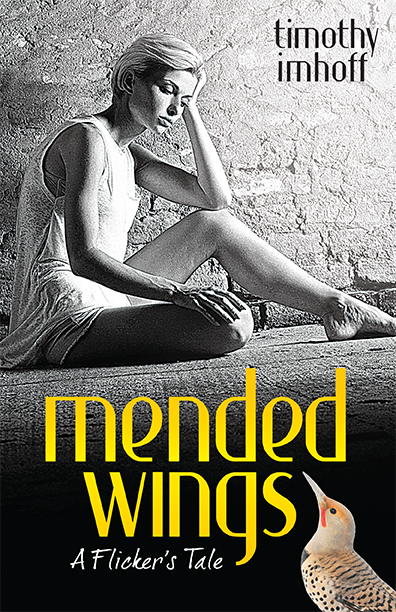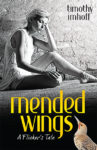 Nathan says:
This isn't a bad cover, but it inspires me to use one of the running gags from LousyBookCovers.com: "Photobombing woodpecker!"
I think there are some suboptimal decisions here.
There are definitely covers which succeed with minimal spots of color in a largely monochromatic image, but they use the color as a focal point wihin the image. Here, the upper two-thirds of the cover is monochrome — then you suddenly have color with the title and with an image element which is entirely separate, in layout and content, than the main image.
I would suspect that very, very few potential readers will be able to identify the bird as a red-shafted Northern Flicker (I had to google it), and without knowing that the bird is a flicker, the subtitle "A Flicker's Tale" will make no sense — especially if they have read your description.  It will seems as nonsensical as "A William's Tale."
Not as big a problem, but I think that the subtitle font clashes with the title and byline font; not similar enough to complement, but not a good contrast either.
So my main recommendation would be to work both the bird imagery and the spare use of color into the main body of the layout, instead of having them confined to one area as an afterthought.
Other comments?