The author says:
This is a science fiction novel set in a post-cyberpunk world, struggling with the rise of corporate gangs and untamed technology. I wanted it simple as possible and chose the skull motif to represent criminal/piracy elements to the story involving corporate banksters, slumlords, rogue AI's. It is set in a near future, post economic super-depression civilisation. I'm aiming to soon publish a new edition and am wondering if I should redesign the existing cover or ditch it altogether.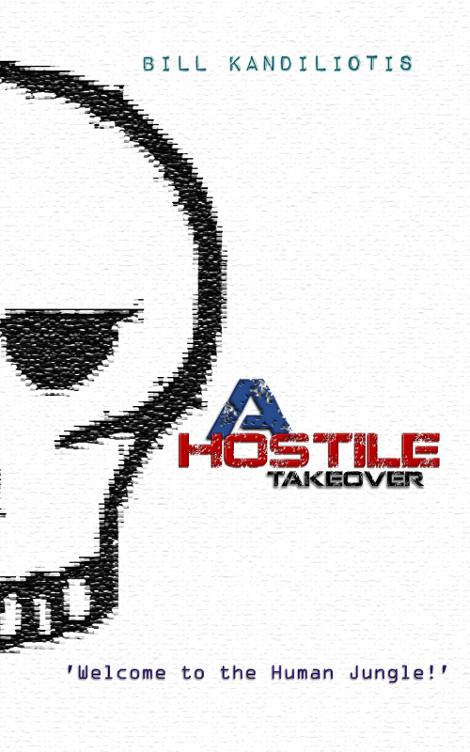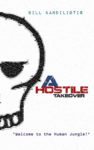 Nathan says:
As a practical matter, you should always put a distinctly different cover on a new edition.  Which gives you lots of room to play with this one!
First: The sizing of the words in the title make it look like "A" is the most important word/letter.  Meanwhile, "Takeover" becomes unreadable in the thumbnail.
Second: While the digitalized, dot-matrix effect on the skull comes through at full size, that's completely lost in the thumbnail; it could a cross-stitch, for all we can see.  Coupled with the fact that "blank white" isn't a a color that anyone associates with cyberpunk, the cover fails to let potential readers know in their first glance that this is a post-cyberpunk criminal dystopian novel.
My suggestion? Steal. Add Matrixy, grungy elements.  Let "cyberpunk" and "dystopia" and "crime" be the first thing people notice, even before they read the title.
Here's my five-minute redo: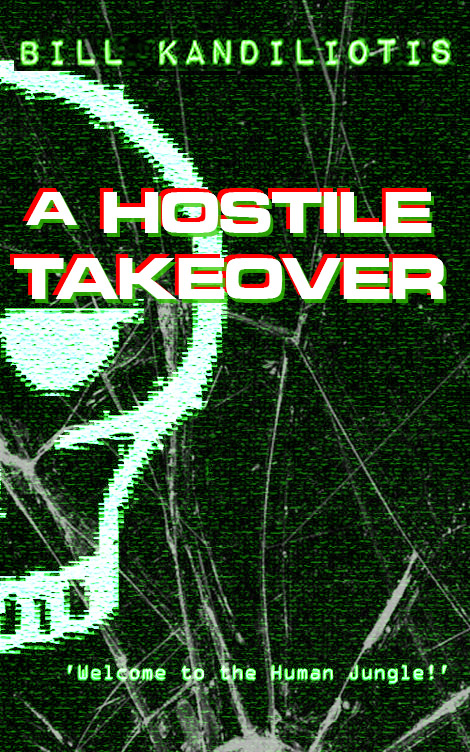 I know I've got your title font somewhere on my computer, but I couldn't find it quickly, so I substituted.  I played with the color balance until it looked like The Matrix, enlarged your name, and added the first "broken glass" wallpaper I found.  I'm not happy with it as a final, obviously, but I think it's a good starting point.
Other ideas?