The publisher says:
Barbara Rosenthal's Magic Realism / Philosophy / Political Fiction / Literature novel, WISH FOR AMNESIA, is a modern-day mix of futuristic fable and historical fact that follows six idiosyncratic characters in New York and Rome from 1968-85, Hippiedom to Halley's Comet.

It pivots around Jack Rubin, son of Holocaust resistance workers, who develops a Messianic Complex as he struggles to be as exemplary as his father. "His genes alone were salvaged from the wreck." Jack embarks on a life of politics, anthropology and early computer technology, but is beset by doubt, paranoia and voices in his head. They say he has no right to lead until he has the perfect plan. A troubled relationship with Beatrice, a blind Black performance artist, moves him to marry one of her students, Caroline, stunning, Jewish and disturbed. Caroline grows up in a dismal little town, her character set by rivalry. Jack becomes a tyrant to his family. The artist is named godmother to their precocious daughter, Jewel, and she takes the child to Rome, where they fall in with a nefarious cabdriver, Toto. "Toto shut his off-duty sign and crept along the curb next to the signorine curiose, following behind them several lengths." Jack desperately strives to fulfill the potential of his father's sacrificed generation, but when he travels to Rome to meet up with his daughter, as he descends a ramp at DaVinci Airport on the date of a historically infamous attack there, he's killed by someone he knows.

There are 55 of the author's images between the chapters (50 "Surreal Photographs" and 5 collages). This extraordinary book has been in development for 38 years, and is due for release Nov. 30.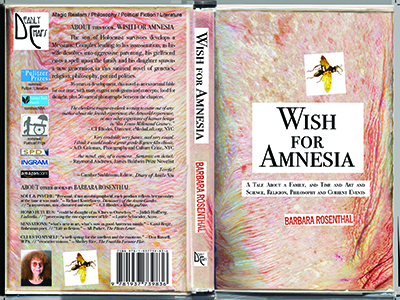 Nathan says:
This is the actual size of the image I was sent, so a lot of detail is lost. I can't tell from the cover what the book is about, but then again, I can't even really tell from the description what it's about, either. However, I think everything you truly need to know about this book is contained in the last sentence of the description that came with the cover:
This extraordinary book has been in development for 38 years….
This book isn't the work of a storyteller attempting to entertain a potential audience in hopes of some modest commercial success; this is a labor of love, worked on in bits and pieces over the years for personal fulfillment in between the other demands of life.
As such, is there anything that we can say to make the cover appeal more directly to its target audience?  The author is its target audience — her, and people who know and love her, and will appreciate the book because its hers.
I guess the only advice, then, is to enlarge the author portrait on the back.
Other thoughts? Am I wrong? Or am I right but to brusque about it?
November 21 Update:
The publisher updated with this:
I am re-submitting this cover in higher resolution. Hopefully, this will alter the understandings of your cover critics because I put the description of Barbara Rosenthal's book on the back cover. I'm publisher of Deadly Chaps Press, and I published WISH FOR AMNESIA because this is the most extraordinary, comprehensive book I've ever read; not in the least a book for only her friends and family, but truly for the world. It IS aging skin, the author's right forearm, in fact — there had been 12 proto-editions over the years; we published these last 6, and this one, due to launch Nov 30, is the Definitive First Edition. The first of our covers was pure white, then aging gradually until this one. I am taking your comments VERY seriously, since so many of you are grossed out by what I found to be extremely intriguing, so I MIGHT change the cover as time goes along, even if the inner text remains the same, but I want you to see the cover as it looks to buyers (at 100% resolution) so here it is again.