The author says:
The Robin Hood Thief is a futuristic thriller.

(tagline) The opposite of death is courage.

A middle-aged mom and nonprofit employee in 2050s America, Helen M. Dawson suddenly finds out she has 45 days left to live. But she's not ready to go. Helen decides to become a hero, the Robin Hood Thief, in hopes of righting the wrongs of her increasingly dystopian society. If she can pull it off, perhaps she can cheat death of its final sting. But can she do all the good she wants in the time she has… and can she keep her daughter safe while she throws her own life away?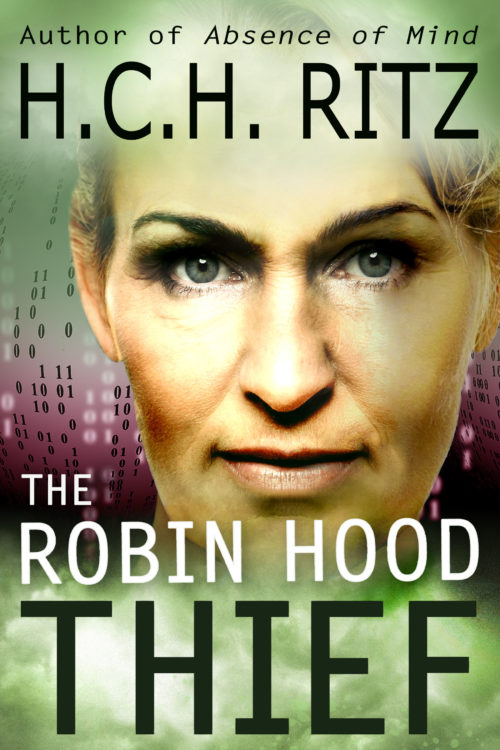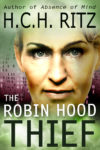 Nathan says:
Hmm.  I don't think having this face dominate the cover is successful, because there's nothing about this face that clues the prospective audience in that this book is for them — there's no distinct expression, no dramatic light… It's just a face, and not a particularly attractive or distinctive one. I would bet that half the people who glance at this cover at thumbnail would assume that it's a biography of someone they don't recognize.
The type is underwhelming. At full size, you can see the binary numbers and understand that this is either futuristic or computer-related, but that detail is lost at thumbnail size; the only thing left to indicate the genre is the typeface, which isn't equal to the task.  Even something that is slightly more mechanical would work better.
Finally, I think your byline looks awkward.  Three initials and a last name is odd, and with the periods in between, the initials end up taking up more space than the surname! I would suggest rejiggering the layout so that the initials are above the surname in a smaller point size.
Other suggestions?