The author says:
This is a freshly minted resubmit of an earlier cover for Blood-Lines, Book I of my Tales of the Weird Wild West series that I will be self-publishing at some point in the near future. Although admittedly I'm still very much using a pre-made template (for a newbie at this, it's also just that much easier for someone of my artistic level to accomplish what they can 8)), this version seems to have a much better look and feel to it for what I wanted the cover to tell someone at first glance. Hopefully just the right mix of a little bit of hook, some line and a sinker as it were 8)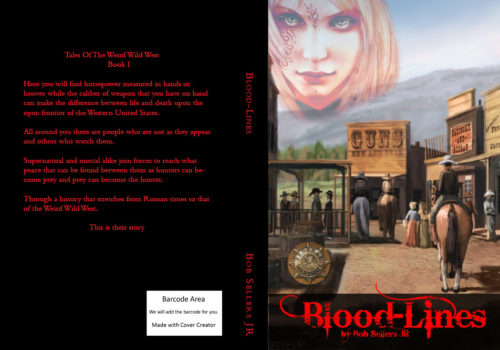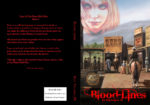 [original submission and comments here]
Nathan says:
It's true that someone can tell the genre much easier from this cover. Unfortunately — and this sounds a lot crueler than it really is — someone can also tell that you have limited skill/experience in cover design, and that this book is self-published, by which I mean the cover isn't up to professional levels.  And given that you're releasing your book to compete against the Big Boys, you can't afford giving any indication from the get-go that your book isn't as worthy of a customer's money as a traditionally published novel.
Indicator #1: The Bleeding Cowboys font.  Yes, I told you previously to find a distressed Western font. But don't use this one.  It's been so overused and overexposed in the past decade, on all sorts of inappropriate projects, that no one with any familiarity with book cover design would touch it.  A pity, because this is the kind of book it would have been good for before it became a punchline.
Indicator #2: The floating zombie girl head.  Over at LousyBookCovers.com, this would fall into the running gag of "Photobombing [something]!" — where an element that's obviously extraneous to the main image has been added.  In this case, you've taken an otherwise non-weird Western scene, and added an element that is unrelated to the rest of the image in both style and layout.  Yes, a zombie head is a good indication that this isn't a typical Western, but again, it's also an indication that a non-professional put this cover together.
I know that indie writers like the "do-it-yourself" ethic, but remember that you're not just the writer, you're the publisher. That means that you need to do the best you can to make sure that the book has a chance on the open market. And I know the budgetary strictures that self-pubbers can be under, but the slogan for this site is true: "In self-publishing, there's nothing more expensive than a bad cover." Because a bad cover will cost you sales, and you can't afford that.
Other comments?