The author says:
This book chronicles the steps the five terrorists of Flight 77 (that hit the Pentagon) took in suburban Maryland in the two weeks prior to 9/11.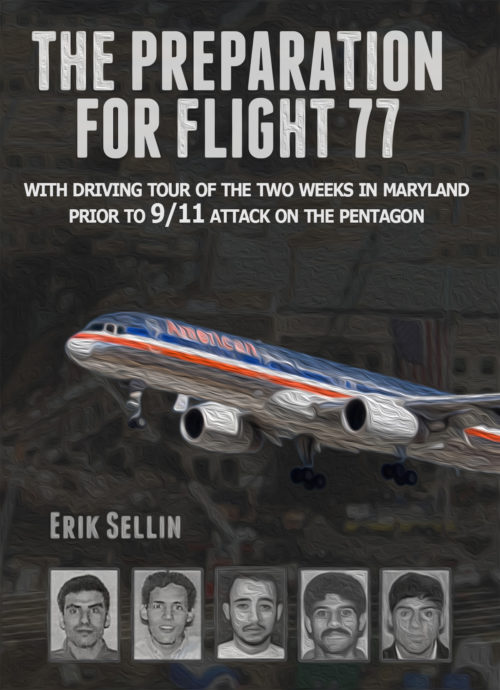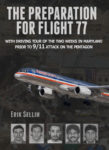 Nathan says:
The subject matter of this one practically demands that the cover content be (1) an airplane, and (2) pictures of the five hijackers.  You've got that part.  Now, what should you do with it?
Lose the swirly filter. Seriously, I don't even know why they include that with PhotoShop, because it's impossible to do anything good with it.  The look you want here is "stark" — deep blacks, bold contrasts.
Those cover elements, being obligatory, don't need to be the dominant elements in your cover.  That should be your title. Nonfiction covers have an advantage over fiction covers in that regard; readers don't mind if your cover tells them with words what the book is about. If it were me, I'd have the title take up fully half of the real estate here.
While your title font choice isn't necessarily bad, you'll notice in other covers that as the subject of the book becomes more serious and worthy to be remembered, the title fonts tend more toward serifed fonts in capital letters.  Why? because a font that connotes two thousand years of history says, "This is important. This is permanent.  This is worth being remembered."  Trajan Pro (aka "The Movie Poster Font") is becoming too overused to clearly give that connotation, but there are other serif fonts that can give that same impression.
Your subtitle font clashes with the title font — and I suspect, would clash with a serifed Roman font.  Try using the same font that the book text uses.  (Also, "driving tour" sounds waaay to idyllic for this subject. You're not sending people on a terror-tourism family vacation here.)
The title is centered, the subtitle is centered, the airplane is smack-dab in the middle, the five headshots are center-aligned… Why isn't your byline centered?  I understand the impulse to add some variety, but it just ends up being the odd element out.
Other comments?