The author says:
My book is the true story of a quest spread over many years. I was given a vintage baseball photograph, and found it arresting in its stark simplicity and the intensity of its action. Two players occupy the foreground: a runner identified as Babe Ruth is sliding hard into third base, while an unidentified infielder crouches to apply a tag. Questions sprang to mind at once. Who was the infielder? Where was the game played and when? Why were the distant left-field bleachers nearly empty, if that's Babe Ruth? Was Babe going to be safe or out? A longtime fan but a novice to baseball research, I set out to crack the photo's mysteries. A few answers came easily, but others were more elusive. Out of thousands of old baseball photos, this one turned out to be one of a handful that have defied full identification even by dedicated experts. As so often happens, there were unforeseen complications and surprising revelations; there were side trails to follow and broader contexts to explore. Embracing all these has enriched the experience and has helped to elucidate why baseball occupies a special place in the fabric of North American society.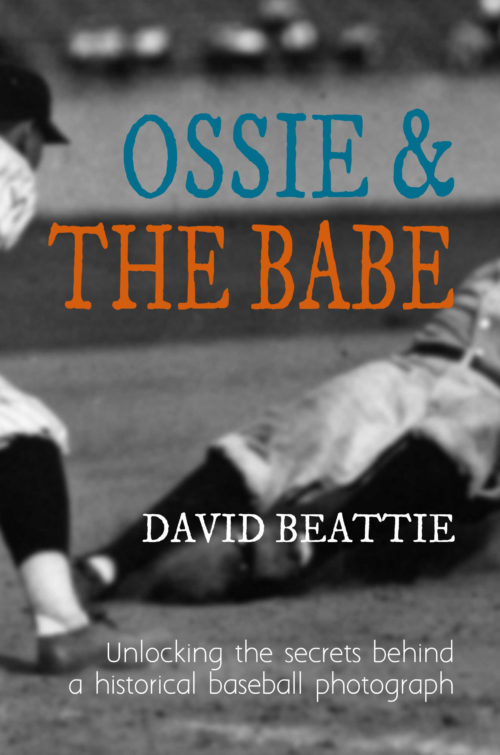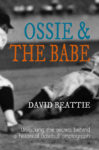 Nathan says:
Kinda nice when the subject of your book is an image, isn't it?  You go into the design process knowing what you have to work with, at least.
Not having seen what the rest of the photo looks like, my first recommendation depends a lot on factors I can't know, but I'm wondering if shifting the image right so that the player on the left is a little more visible (and a little more instantly recognized as a baseball player) might be a good strategy.
I also understand that blowing up an original photo is going to give you a fuzzy image — the problem is that we've seen so many fuzzy images without that rationale (i.e., people just not knowing how to process an image) that I fear some readers will just assume that it's a poor image choice.  Are there any texture or flaws to the original image — scratches, dust motes, etc. — that would show more clearly that what we're looking at is an enlargement of a historical photo, and further show that this is a faithful reproduction of a blurry-at-that-size photograph?  Does the original photo have any tinting, or any yellowing from age?  I think that should be included, rather than bleached out.  Shucks, even if the original image doesn't have any tinting, I think it would be okay to "cheat" a bit and add a light sepia tone.
I like the font for the title, but I don't know that the color scheme works.  On a black-and-white Kindle or Nook, the title is going to wash out into the gray background.  I'd play around with making "OSSIE &" darker and "THE BABE" lighter so they stand out better against their respective backgrounds.
And finally, I really don't like the font for your subtitle.  You should keep with the theme of period typefaces; look back on some advertising of the period — especially sports advertising — and use that as inspiration to pick another font.  Or go for a good handwritten font; it would add the connotation that this is a personal quest.
Other ideas?