The author says:
Synopsis: When one door closes another opens. An adage painfully true for Alexandria Shaw, who is invited to an exclusive club for a night of fun, but after meeting Landon Miller, she is left with a heart-pounding night that leads to a world of danger and a web of deceit. The novel is a mystery/suspense setting in current day.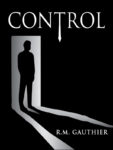 Nathan says:
If an author sent this to me as a concept, here's what I'd do:
Make the title bolder. "CONTROL" demands a more commanding font treatment.
Make the byline bigger across the bottom. (I'd probably also switch out that Trajanesque font.)
Add a grungy color shadow to the black.
Other suggestions?