The author says:
Richard Parsons is a lupine, one of the many breeds of shape-shifters living in Seattle. Mortal legends of his kind call them werewolves. When a traveling exhibition returns to Seattle, Richard takes a night time visit, with plans that go beyond seeing a particular display. However he is unprepared for the memories and emotions that come flooding back.

This short story is set partly in current day Seattle, and partly in the near past. It's intended to be part of a series of releases that provide some background stories that precede an upcoming novel.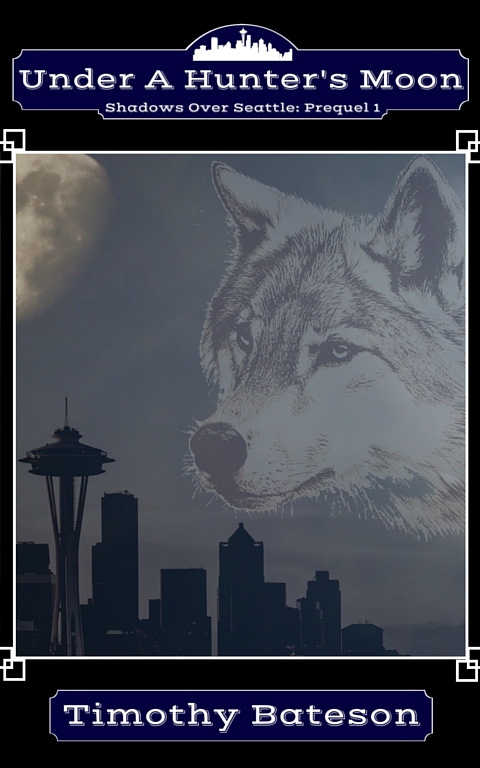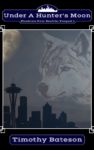 Nathan says:
There's a running gag at LBC.com about "Wolfie" showing up on covers. I'm afraid yours would be a candidate.
I can see what you're trying to do here — a big shadowy wolf looming over the city — but it isn't working.  The wolf isn't looming so much as looking on in a disinterested fashion.  The filters you've used to render the wolf "ghostly" also make him plain and easy to ignore.
I also have a big problem with how you've decided to separate your type from the main image.  Let's be honest: There are no particular details in your image that absolutely shouldn't be obscured by text, so there's no reason to keep your text completely off your image.  And in shoving the text to the top and bottom, and then encasing each in a border, you're forcing the text to be smaller and smaller — the result being that not one bit of it is readable in thumbnail.
There are no quick fixes here.  To take your cover from your concept to a market-ready layout requires the find of graphic intelligence that is usually only gained from years of practice.  I think this is the point at which you should turn over what you've done to a freelancer to make it professional.
Anyone think differently?