The author says:
A dark fantasy and cosmic horror novel, book 1 in a series. The main characters quest to bring justice to the dread lord of an evil nation. But all of their actions are orchestrated by titanic forces that move in the shadows of history, seeking terrible ends that these mortal pawns cannot begin to imagine or oppose. Synopses: The End of Days has come and gone. Horrors from beyond sanity lay siege to reality. In this world, Alfair and Paemani come of age fighting to build a nation in the perilous North Marshes. Centuries later, their scion the Princess Valkyrie crusades against the Mad Count of Harkenvold. But against the Horrors, the Mad Count may stand as the only true hope. The story follows Alfair, Paemani, and Valkyrie as they seek victories that may imperil creation itself and fight wars that they may desperately need to lose as the North Marshes rises to prominence in an utterly hostile world.

The art is a sketch by Alex Ruiz at Conceptmonster.net used with permission, my role was in colorizing and formatting it as a cover.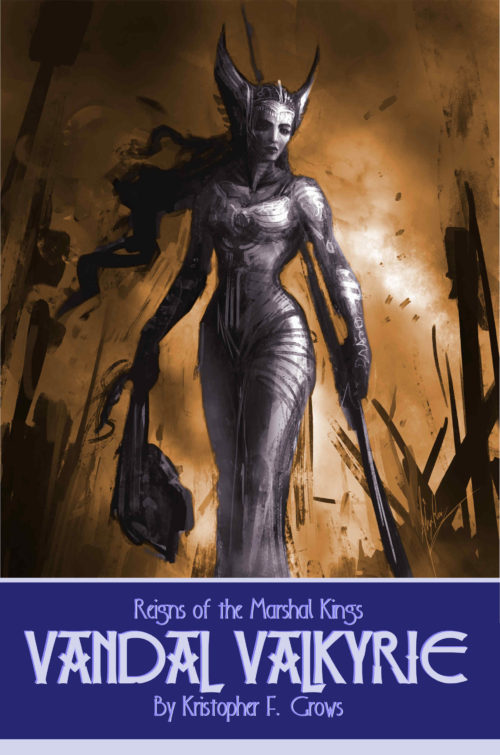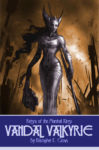 Nathan says:
The art is terrific — sketchy, of course, but still bold and evocative for all that. You made a good choice.
The type… not so much. Problems:
Every time I see the type isolated into a section away from the art, I think, "This art obviously wasn't commissioned for this cover — it was acquired, and then someone tried to make the type fit." Which is exactly what happened here, but you don't WANT it to look that way.  I took a look at the original art to see if you have any more room at the bottom. You do. USE IT. You could place the byline at the top, and the title and series title at the bottom. Or place the title across her midriff (the two focal points are her head, and the head in her hand). But get rid of that pasted-on blue box.
Both fonts you chose are ornate enough to be hard to read.  I think that with "valkyrie" in the title and a warrior woman dominating the illustration, you don't need the Norse-ness in the title typeface to sell the concept; concentrate on impact and readability instead. The same goes for the series title and byline: the smaller the type is, the clearer it needs to be in order to be read.
Other comments?