The author says:
Will the plane crash that killed her husband two years earlier also claim Genny Stevens as a victim? When the insurance company demands their money back she hires Taylor Coleman to prove her husband's innocence and protect her and her two small children. Someone else has a different plan for Genny, one that doesn't involve her staying alive. She wonders if help from an unexpected source can possibly manage to arrive in time.

Guarding Genny weaves suspense, intrigue and fantasy into a modern day romance while straddling the worlds of the mystical and reality. This is a draft for the first of four books in the Moonlight Magic Series. It can be considered a Clean and Wholesome romantic story but with enough suspense, intrigue and mysticism to appeal to the YA through the senior citizen set. At this time we are leaning towards the Romantic Suspense category but are still researching which option is best. The book is finished, we just need the cover to publish. Thank you for any input that will better the cover.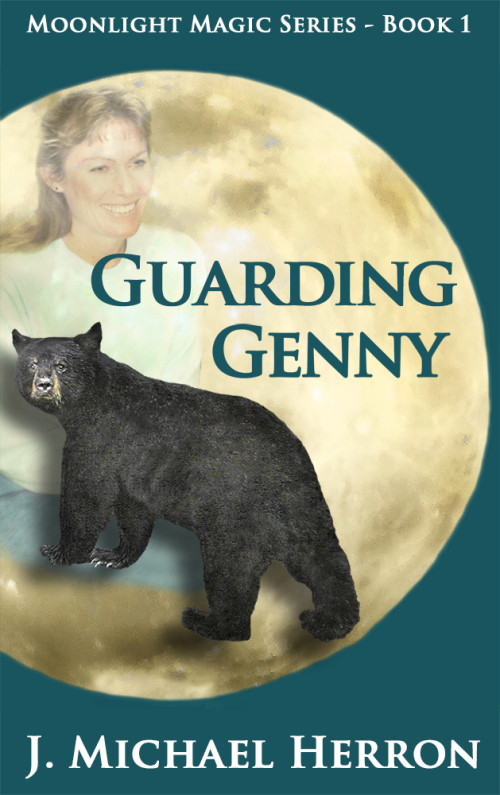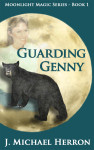 Nathan says:
I have to tell you, if I saw this cover on Amazon I'd seriously consider putting it up on LousyBookCovers.Com.  Why?  Here's what I see:
A bear's butt.  In a moon.  With a smiling woman. But mostly a bear's butt.
Does this tell me what the genre is?  Who the intended reader is?  What kind of story I'll find behind the cover?  No, none of that.
And your description takes it further afield. You're describing a suspense thriller, but suspense thrillers aren't marketed with smiling people and gentle color schemes and bears' butts.  Suspense thrillers are marketed with bold fonts and ominous shadows, and the people definitely aren't smiling. Heck, you even mention a plane crash in your synopsis!  Plane crashes are exciting and dramatic! So why am I staring at a bear's butt instead?  (And if your answer is, "It makes sense once you read the book," you're doing it wrong.  Nobody reads the book so that the cover will make sense to them.  The cover needs to appeal to readers before they know anything else about your book.)
The thing is that suspense thriller covers, especially "woman in jeopardy" covers, are really quite simple.  Go to Amazon and look at Tess Gerritsen's covers, or Tami Hoag's covers, or Lisa Jackson's covers.  These are the readers you're going after, so you need to catch the readers' eyes by marketing to them in the same way.
Other comments?