The author says:
Evelyn Carter is a struggling video news stringer, who stumbles into the biggest story of her life. After she records and reveals to the world the arrival of a time machine, she is recruited to become a member of an elite government time travel team. She and her team travel through time, with the public goal of recording historical events on video for the world to see. Along the way she learns of a hidden agenda that must be kept secret from the public at all costs. Buried deep in the past is a potential solution to stop the unstoppable. The team must journey farther through time and space than anyone has ever gone or thought possible, in order to put the pieces of the puzzle together. However they are blocked at every turn in their efforts, and the stakes couldn't be higher.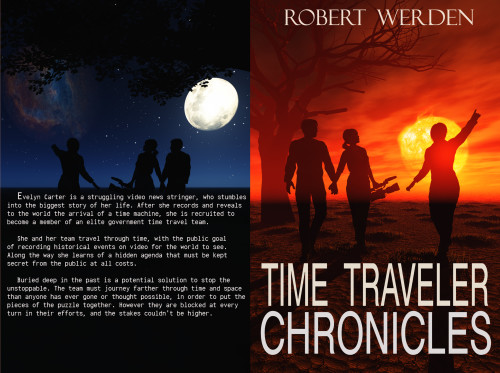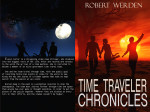 Nathan says:
Hmm. There are a lot of choices that seem almost-right here, but they're cumulatively less than the sum of their parts.  I'll try to pick them apart.
First, I've got real problems with your font choices.  The title font is too plain to be enticing, but too innocuous to be urgent.  The back cover font is an impediment to reading the text.  And while I have no problems with the byline font itself, it doesn't mesh well with the other fonts at all.
The color-transparency of the silhouetted figures is also annoying.  But more than that, they seem to be indicating that whatever is worth looking at is happening somewhere off the cover.
And then you've got an egg-shaped moon on the back cover. Definite demerits there.
To tweak this cover, I would move the sun to behind the couple and crop it like this: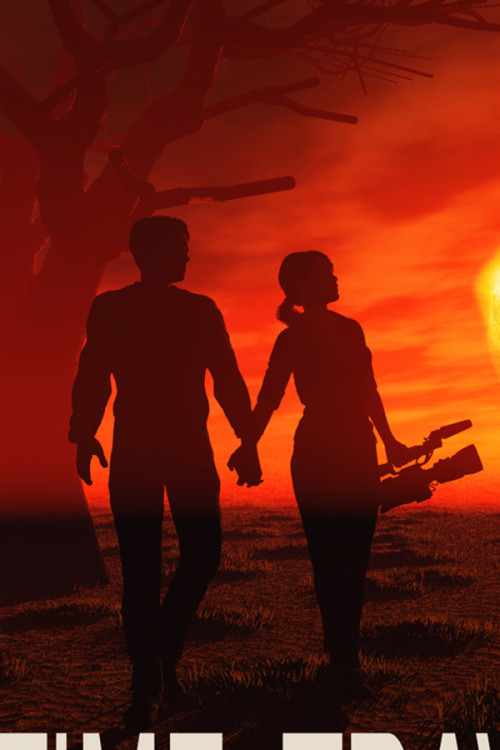 Since the other detail in the image doesn't actually convey any additional information, it can be excised in favor of focus.
Anyone think differently?